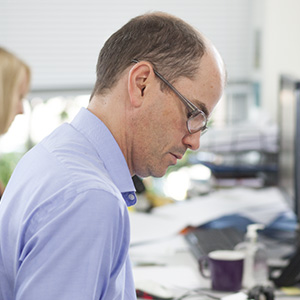 James Dix
Commercial Director
As Commercial Director, James is key to The Team's business function, and along with the other members of the management board shapes and manages the Team's corporate performance. He is pivotal in ensuring the effective and efficient running of the company and takes responsibility for all central operational facilities and functions.
Since joining in 1997, he has helped manage the rapid growth of The Team and has overseen relocation projects, client procurement procedures and improvements in our corporate efficiency. He manages the Team's financial and support systems, and contractual relationships with business partners, clients and suppliers. He oversees a team of six and takes responsibility for our finance and job management systems together with HR, IT and facilities.
Through his leadership, our internal systems and processes have received ISO 9001, ISO 14001 and ISO 27001 accreditation together with Investors in People.
Possessing a great knowledge and understanding of design and marketing frameworks he leads regular workshops and forums, sharing best practice with fellow accountants from within the creative services sector. He also provides consultant support to other companies within the Writtle Group and acts as Financial Director at Seymourpowell.
Prior to joining the Team, James worked in California as Finance and Operations Director for Animal, the UK active sportswear company, where he co-ordinated the organisation's expansion to the US market.