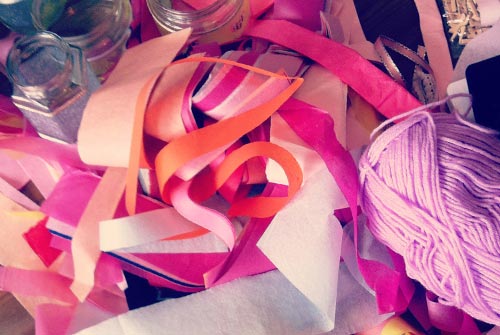 As a child I used to love arts and crafts. I remember contently sitting for hours and hours making cards, modelling clay, quilling, painting and drawing- anything that allowed me to express my creativity. I spent all my pocket money in arts and crafts shops, gazing in wonderment over all the materials, revelling in the colours and textures and thinking about what I could use for my next art project. So where did my passion for arts and crafts go?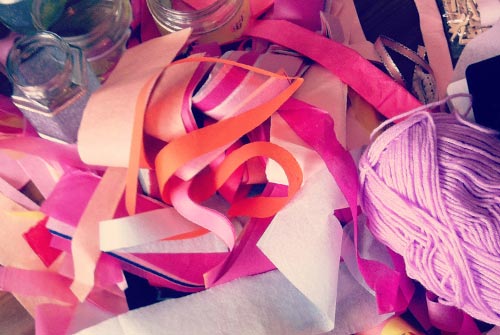 Well I can't answer that question really. All I can say is that I got older, busier and sadly I spurned the simple pleasures of my childhood for more 'sophisticated' entertainment.
This Easter weekend I was invited to my friend's house to help her with her 'handmade wedding' – essentially all the décor is made from scratch, from the centre pieces and the bunting, to the cake stand and table plan. My friend is a fine arts graduate, however she doesn't actually work in the creative industries, she is a school teacher, but her house is filled with beautiful and quirky nods to her creativity. From a detailed black and white still life drawing above her fireplace, to an origami style streamer strewn across the bookcase, framing the novels contained within. Even at the age of 32 she has never lost her innate need to use art to express herself, and continues to use her gift and talents to bring herself and others pleasure.
Always busy and feeling like I'm constantly in work mode I like to make the most of my weekends and particularly a bank holiday. So at first, the idea of staying indoors to make wedding decorations seemed like a bit of a chore. "Why can't we go out for a lunch instead? Or have a shopping trip or go for a walk in the countryside?"
Well I'm glad that I didn't voice my ideas and went with the flow.
I was on jar decorating duty! – Who'd have thought that cutting up coloured tissue paper and brushing it onto jam jars then embellishing with other crafty jewels would be a) so relaxing b) therapeutic c) addictive and d) utterly satisfying to look at the finished product. Quickly my childhood memories came flooding back. Not only did I have a lovely day sipping Prosecco whilst deciding where to glue the next paper heart, but I made a valid contribution to my friend's special day and felt utterly detached from my usually hectic lifestyle.
Following this rediscovery of artistic pleasure I got to thinking, I hope schools and parents still encourage arts and creativity in their children as we become enveloped in a digitally engulfed world. Technology is a wonderful thing and there is no doubt that it has enhanced our day to day living. It helps children to learn and develop a multitude of skills from problem solving to critical thinking. Technology can help develop social skills and provide entertainment, but it will never compare to the creative outlet of working with basic materials and seeing where your imagination can take them in producing a work of art.
But this conscious effort to explore our inner artiste shouldn't just be applied to children but to adults too. No one said it would be easy to continue the creative journey into adulthood, not even a great artist like Picasso as he quoted:
"Every child is an artist, the problem is staying an artist when you grow up".
No matter whom you are, Picasso believes that everyone is an artist and that they can remain so throughout life, but it is our responsibility to continue and develop that part of us.
Working at a creative agency makes it easier to develop artistry as you have to draw upon inspiration around you, trust your ideas and explore creativity every day to come up with new and innovative ways to engage audiences and enhance business communications for clients.
But who said art, creativity and idea generation is only for those adults working within the creative industries? Clients too have to be brave in collaborating with us. By being uninhibited and embracing collective ideas, award winning campaigns can be produced and effective and ground breaking work nurtured.
So perhaps the next time you have a free day, get out those paint pots, or take out your sketch book and explore your ideas and see where your imagination and creativity will take you – you may well find it more gratifying and relaxing than spending your day any other way.