Customers are switching brands.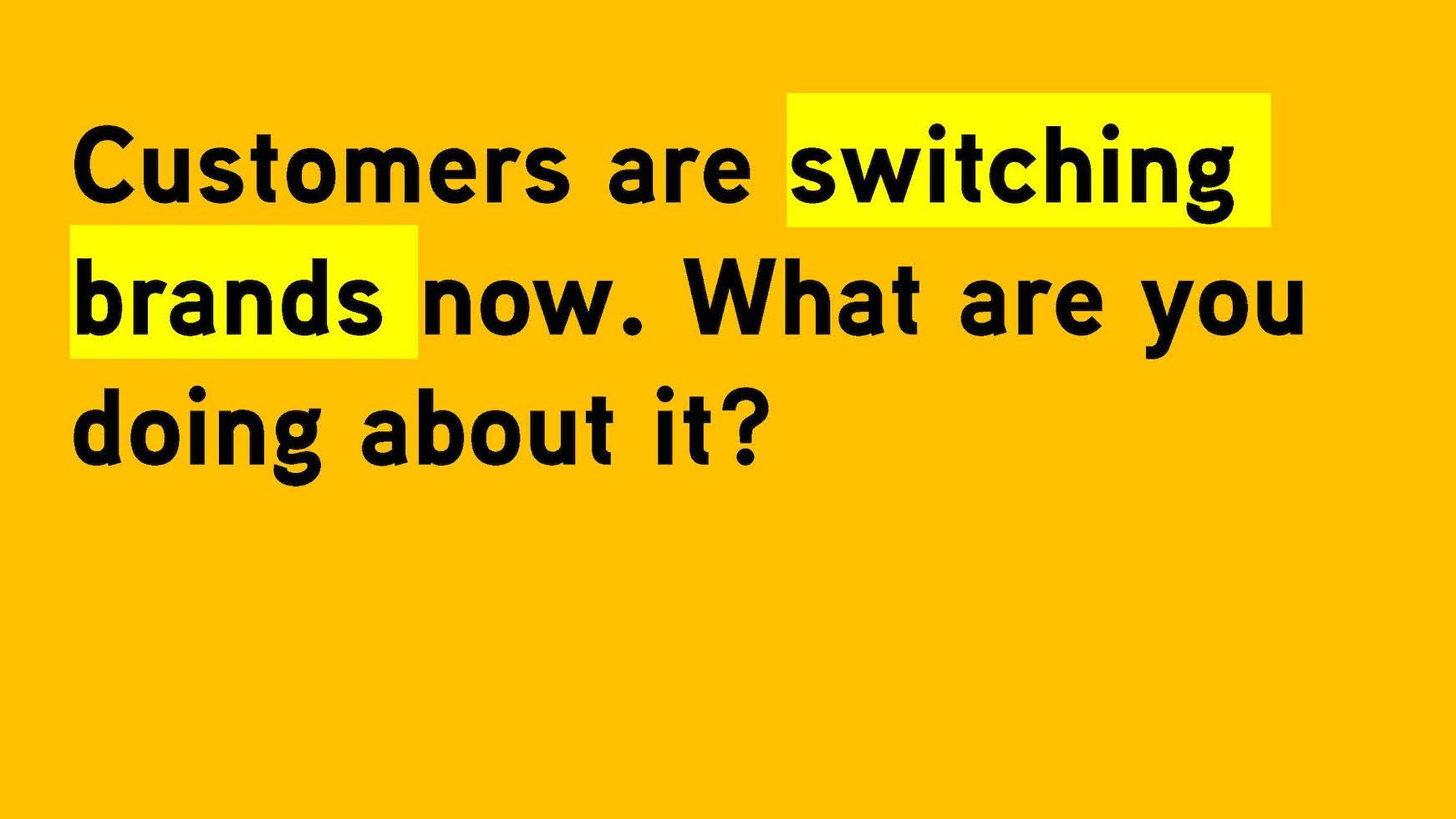 Customers are either considering leaving you, or they are considering you. You should consider what to do now. Do you want to win customers or lose them? Simple choice.
These are tumultuous times. Life changing even. And right now, thousands of brands are scaling back on their brand and marketing activity. Precisely what they should not be doing. Because when life changing events occur, as Richard Shotton points out in his book 'The Choice Factory', consumers are more likely to switch brands. In fact, if Shotton's research is being lived out now, 21% of consumers are about to switch brands.
Why? Because life changes shake us out of our habits.
The numbers could be even larger, with some recent research suggesting that 50% of consumers saying that they will switch brands if online experience does not match up to their expectations. Will it happen? Perhaps it is worth looking at the Chinese market as a pre-cursor to what may happen elsewhere. Already, McKinsey report that 28% of consumers are switching allegiance.
Brand switching is happening and if you are not investing in telling customers why they should come to you or changing the experience for your existing customers, then you will lose.
The same is happening inside organisations. Employees are embracing new ways of working. Transformational change that would previously have taken years to achieve is happening in a matter of months. Remember that C-Suite executive who scoffed at the idea of remote working? Well, now they are being forced to do it and guess what, they rather like it.
What does this mean for brands and the people that work for them? Well those employees are going to demand much more in terms of what the kit can do for them and how they work.
A recent survey by Garner (Forbes), 74% of chief financial officers polled said they would make at least 5% of their workforce persist in their remote work environments. They are way wide of the mark. The numbers that will want to change the way they work and where they work will be much higher. People want work life balance.
A survey in Germany discovered that 50% of workers who left the healthcare sector would return if they were given more flexibility. People want freedom.
And as Daniel Pink has famously written, alongside autonomy, people want mastery. That means being upskilled, reskilled and given the tools that work first time. Time and again executives report how employees have stepped up during these difficult times. What employees now want is for their brands to invest in the first-class service tools that they and their customers deserve – otherwise, at the first sign of recovery, they will be off.
Customers are switching; employees are wanting to change and do things better. What are you waiting for?