How can workspaces help improve employee productivity and wellbeing?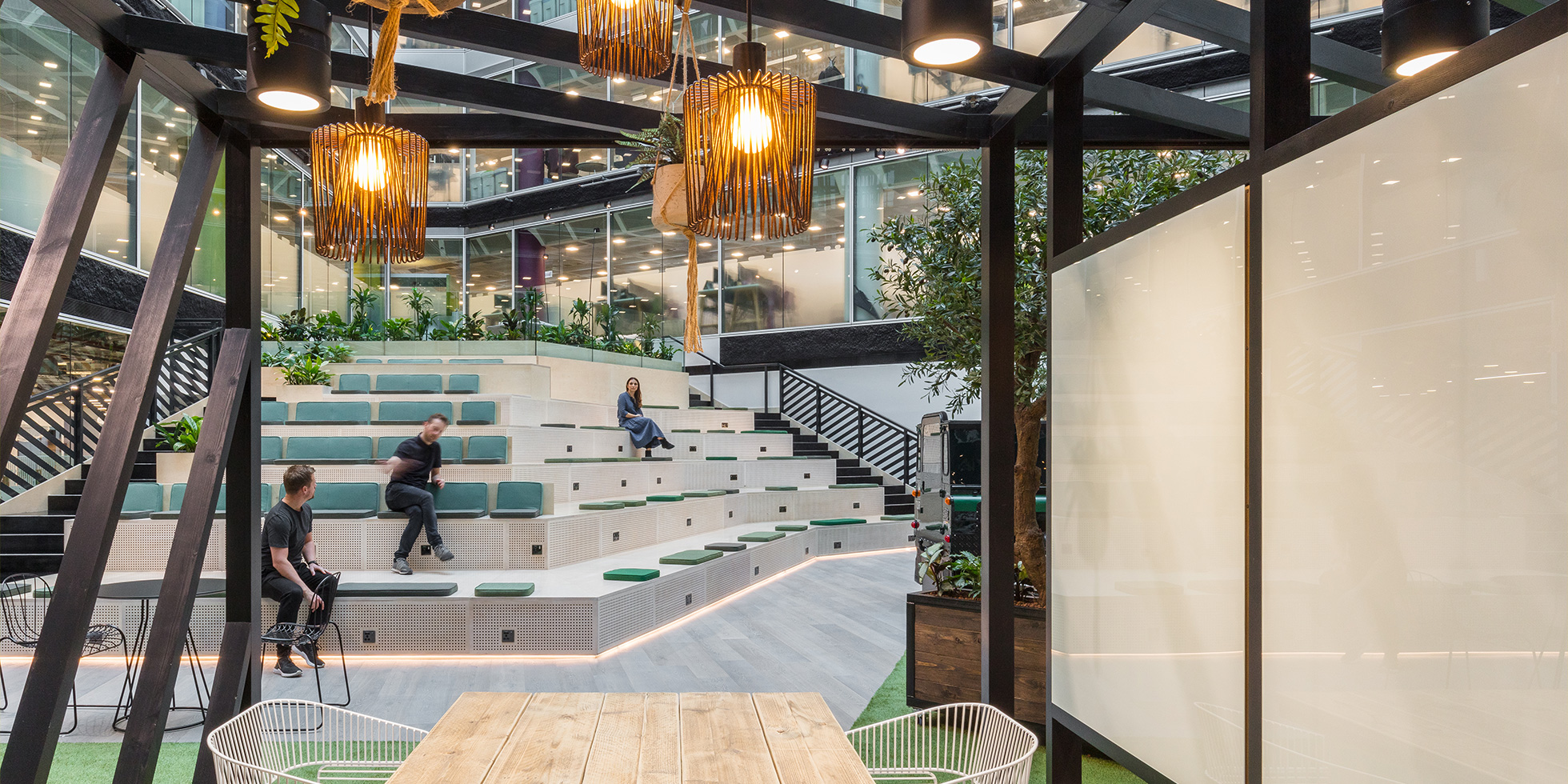 With research underpinning the idea that artwork can relieve the stress patients face in hospital, we look at how workspace design can help improve employee productivity and wellbeing.
The power of design in hospitals
Research by CW+, the official charity of Chelsea and Westminster Hospital NHS Foundation Trust, has found that filling the hospital with art has helped to improve patient wellbeing, decrease hospital stays and reduce anxiety, depression and pain.
For the last 25 years, the Chelsea and Westminster Hospital has been looking at ways to improve the healing process through the environment. They have found that mental health and experiences of those receiving intrusive examinations, surgery, chemotherapy and emergency care are improved when visual art is installed. And, it is not just imagery that has the power to have a healing effect, there are other factors including temperature, lighting, acoustics, air quality, closeness to nature, way-finding, privacy and technology, as well as the arts.
Could the same tactics be successfully applied to workspaces to improve employee wellbeing and productivity?
Earlier this year, the World Health Organisation announced that "burnout" can be diagnosed as a legitimate medical condition. According to last year's statistics, 74% of British workers felt so stressed that they were "overwhelmed or unable to cope" and 67% of people believed stress caused them both mental and physical ill-health. Therefore, it is no surprise that businesses are more attuned to using workspace transformations and design as opportunities to create positive cultural change and improve employee wellbeing.
The power of design in workspaces
Technology as well as digital tools and platforms are transforming traditional ways of working. They are changing how companies think about – and use – their office space. At The Team, we can attest to it.
Last September, we went through workspace changes and downsized to half the space we used to have. The consequence of which has been positive, but it's interesting looking at projects like this as a way to improve staff wellbeing and embrace change. The renovated space now allows us to work in a way that's a lot more flexible and collaborative. For instance, by choosing to opt for laptops over iMacs, designers have the freedom to move around and interact not just with the space but with employees far more than before. Another key element of our new workspace is the addition of more flexible meeting room spaces which we repurpose into design sprint rooms – successfully allowing our clients and designers to collaborate on projects. We have seen and helped several clients, including NS&I and Natwest, with workplace design during similar office transformations like our own, using it as an opportune moment to create positive cultural change and improve wellbeing.
As designers, we can help create environments where people love to live and work. It's not just about designing spaces that support people's individual wellbeing. It's also about encouraging a positive working culture to sustain a healthy, stress-free workplace in the long term. If you have this, you have a culture people are far more invested in.
We see this more and more as workspaces are moving away from corporate settings, opting instead for a blend of residential and hospitality design to provide a richer, hybrid environment. Integrating exercise spaces, chill-out areas and treatment rooms into workspace designs are ways businesses are helping to reduce stress at work and improve wellbeing – even helping to change workplace culture. We are now taking design cues from non-corporate settings, selecting furniture, finishes, fabrics and lighting to create comfortable and enjoyable spaces to be in.
How to design imagery for a workspace
The key to designing workspace imagery is to start with an overarching theme. The theme could come from anywhere. It could be inspired by the building itself, the way light moves around it, or by a company's ethos. Imagery serves to create a mood, and that mood can change depending on the space – from a wow factor moment at the entrance to calm and tranquillity in the staff room. It is perhaps no secret that, gone are the days when office walls were plastered with giant company logos, framed portraits of Board members or – worse still – a swathe of magnolia paint. Imagery can play an important role in creating a calming and welcoming environment, improving wellbeing, so it is crucial to carefully consider the placement of these on your walls.
During Workplace Week I had the opportunity to see property company ZPG's office space. They themed every single room into a replica version of what would be in your home. This for me brings up a common pitfall where form overshadows function. We should be wary of letting design inhibit the functionality of the space, it should instead, serve to enhance it. Of course, if a theme's too ambitious, it can be quite costly and a strain to maintain these high standards. It should always be about allowing your design to have the flexibility to evolve with the needs of your employees and your business.
Any employer considering artwork and design in their own space should think about how they want the space to perform. Visual merchandisers do exactly this in capturing their customers attention in retail stores. But you also have to think about your employees' needs. Their ways of working will be different depending on their job, so factor these nuances into the design of your space.
Remember, less will always be more as adding to the design of the space is part of the growth process. Let it sit for a while, let people start to feel at one with the space and then see where things need to be tweaked or changed. Over designing will always mean a pitfall. People are never 100% happy and businesses never stay the same, so ensure that future proofing is part of the design process from conception to delivery. Allow for the design to have some flex so that your employees and your space can evolve with the business.