NATS Hybrid Towers: A behind-the-scenes look at an incredible project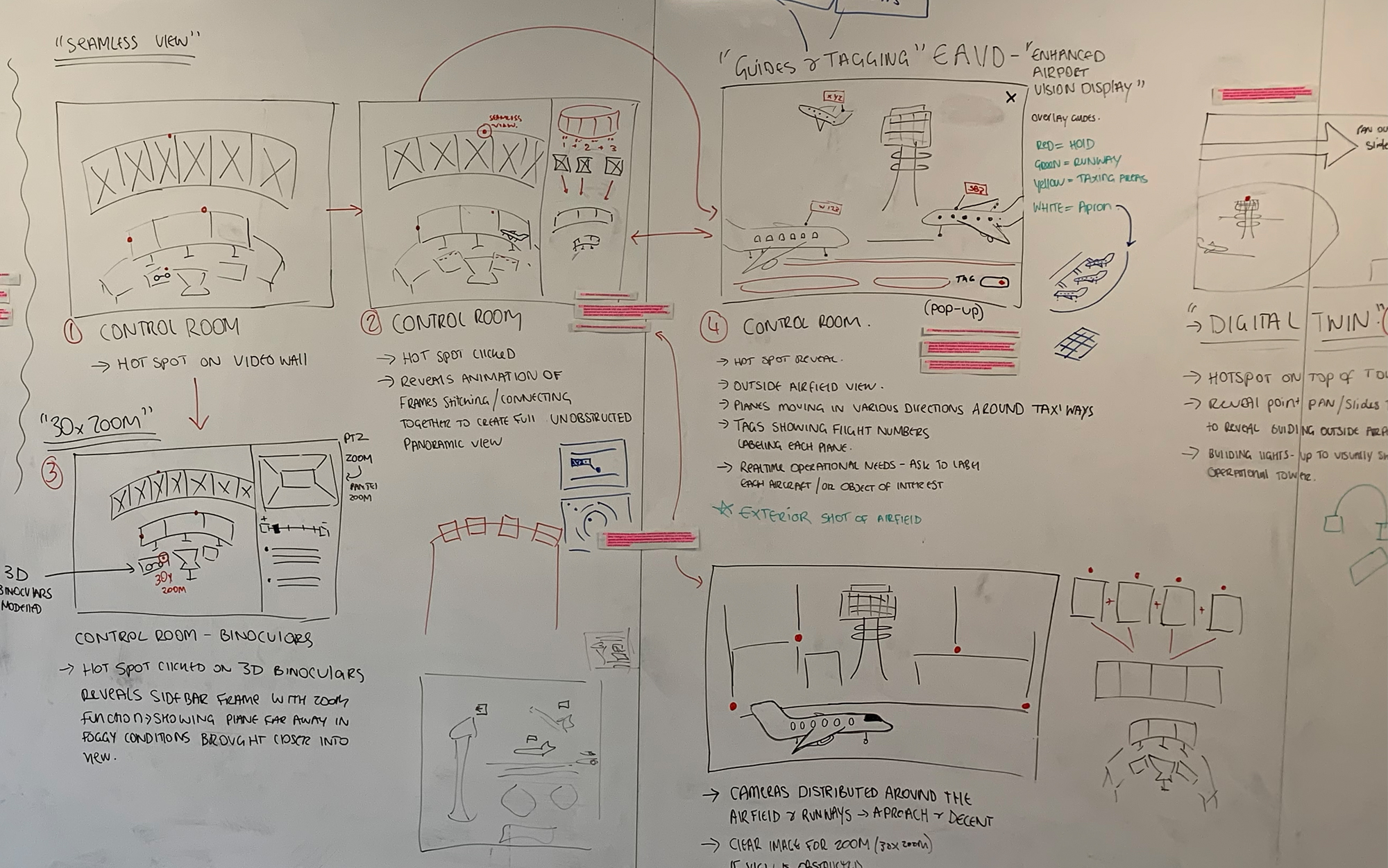 In this blog, we're going to share with you a behind-the-scenes look at an incredible project we worked on: NATS Hybrid Towers.

Agencies will often showcase the polished outputs of a great project, but fail to shine a light on the background process, which is such a shame! The behind-the-scenes aspect of a project gives people an insight into the magical playground of inspired thinking, collaboration and development. 
This is especially true when it's about a concept or idea that many are not familiar with.  
Cue: NATS Hybrid Towers.
We recently worked with NATS (the UK's leading provider of air traffic control services) on showcasing some of their incredible innovations and capabilities.  
NATS have been innovating in the space of air traffic management by reimagining the way airport air traffic towers currently operate. They do this by implementing state of the art technology to create digital solutions in this space. 
As NATS describes, Digital Towers are 'a technology that's making airports around the world safer, more flexible and efficient.' They've created 5 variations of Digital Towers to cater to different requirements and to help with the smooth running of airports.  
The solutions vary from a fully digital to hybrid option where airports can make the most of their existing physical towers and bolt on parts of the digital tower technologies to augment and enhance the capabilities of the airport, as well as giving tools to air traffic controllers to perform their work safely and efficiently.  
What is a hybrid tower?
Hybrid Towers are ideal for upgrading and extending the capability of an existing physical tower at a larger airport by incorporating camera feeds and screens.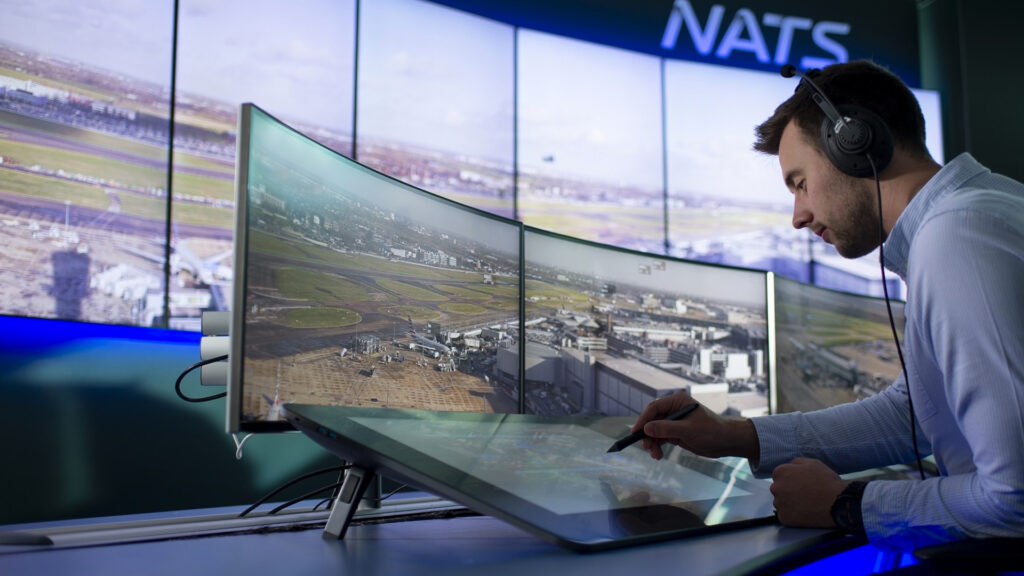 Inside a digital Air traffic control tower.
A couple of months ago, The Team worked with NATS, National Air Traffic Services, to create an interactive digital platform that gives the user an understanding of how hybrid towers work.  
This platform was part of the Canso exhibition in Geneva, Switzerland. It needed to showcase the capabilities and benefits of hybrid towers in a simple and interactive way.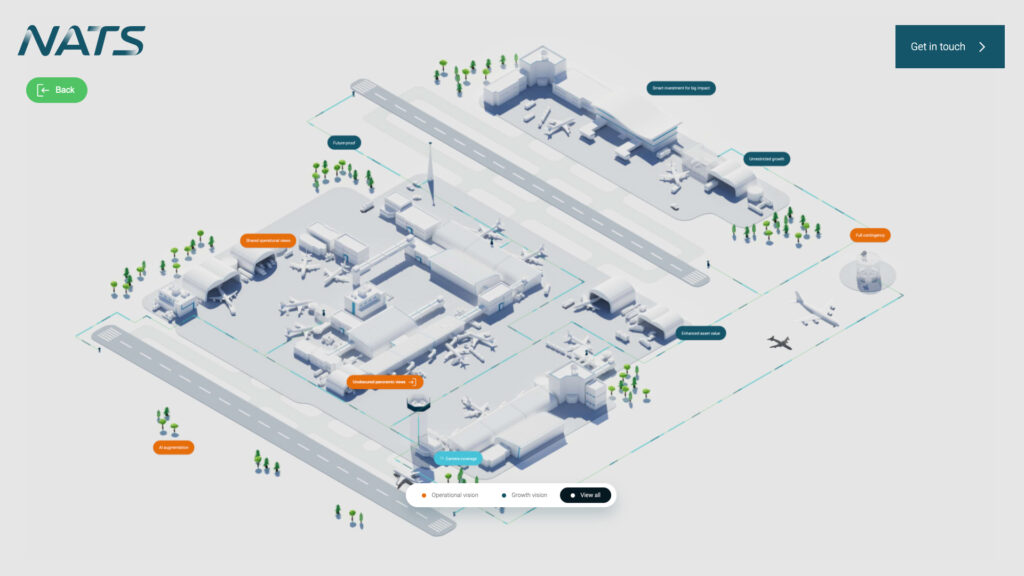 Interactive airport environment.
So, what makes hybrid towers different?
Air traffic controllers traditionally operate from air traffic towers, which give offer a limited viewpoint which means they're not able to see the entire airport. Visibility is also impacted by weather conditions – so when it's it's foggy, dusty, raining or hailing, it makes the job of seeing even more of a challenge. 
As a solution to this, NATS developed hybrid towers. 
Data from remote cameras strategically positioned around the airport is transmitted to the hybrid towers.
This gives air traffic controllers a full view of the airport in different weather conditions by providing them with tools such as digital assistant, artificial intelligence and augmented reality. 
The same feed can also be distributed across different departments around the airport for better collaboration and improved efficiency.  
How was this translated into an online experience?
We started by thinking about what the story was we wanted to tell.  Our in-house strategists collaborated with NATS to begin thinking about what the story was that we wanted to tell. From this collaboration, two key areas of focus were identified:
O
perational vision
This focuses on the perspective of an air traffic controller, who would want to see the benefits of a hybrid tower and how it would improve their daily experience.  
Growth vision
From the perspective of airports who want to develop and grow. A hybrid tower could help them do this by making the most of existing infrastructure by using cameras and technology without the need for building new traffic towers. 
 So with the user in mind, The Team began creating the structure to tell the story of hybrid towers.
The platform was designed for 42-inch touch screens as part of the exhibition, so the environment needed to be taken into consideration. When we approached the interface design, the key considerations were ease of use and accessibility. 
For the most part, people that attend these shows are time-poor, so the interactions and content needed to be succinct, simple and intuitive. 
To do that, a different approach to interface design was taken to allow people to navigate and discover content by creating a 3D model of an airport that was used as a vehicle for the interface. 
This allowed people to quickly identify operational and growth opportunities that come with the application of Hybrid Towers.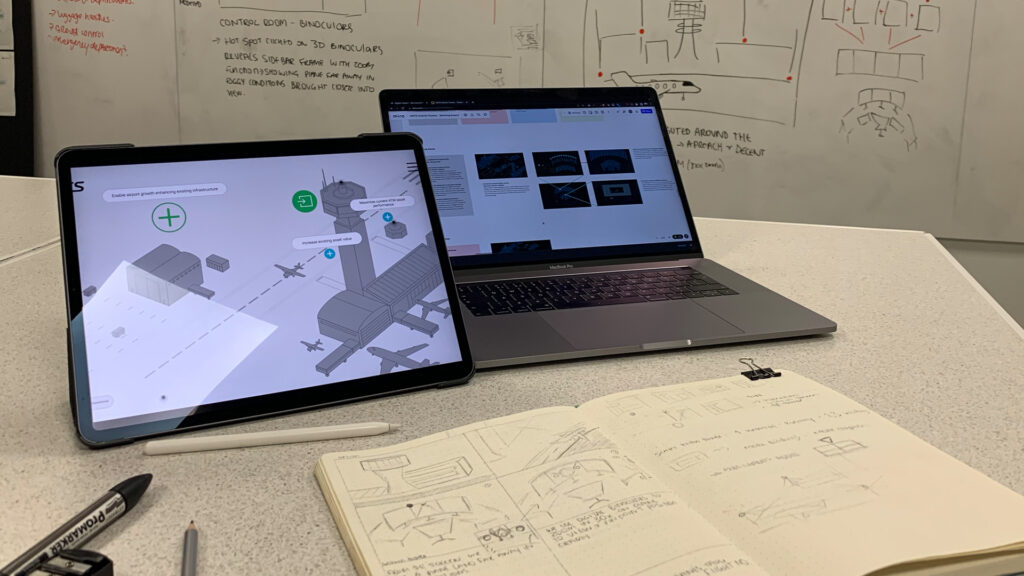 Initial sketches of the airport.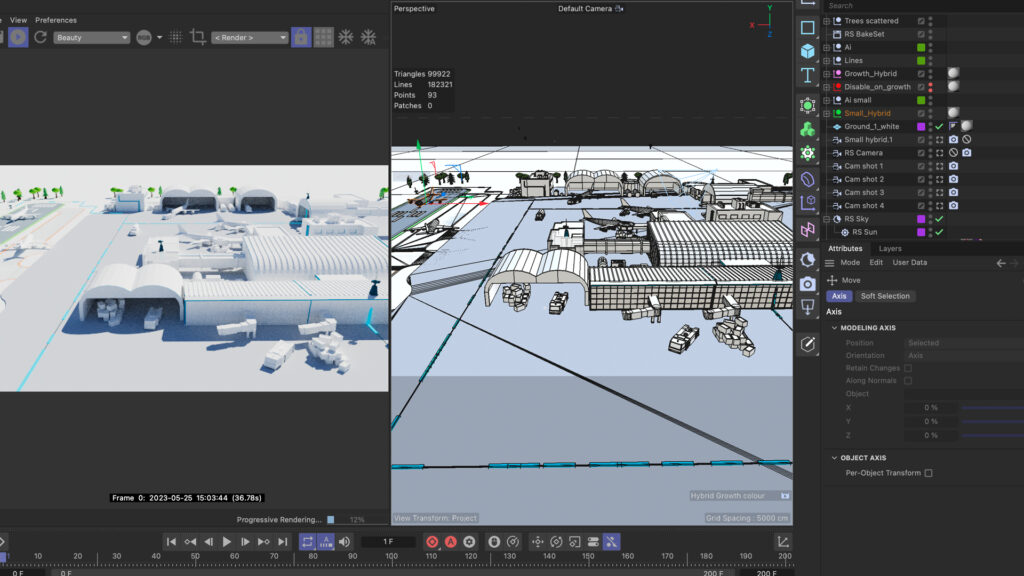 3D modelling process.
Using hotspots throughout the airport allowed users to quickly discover information and see the opportunities a hybrid tower can offer.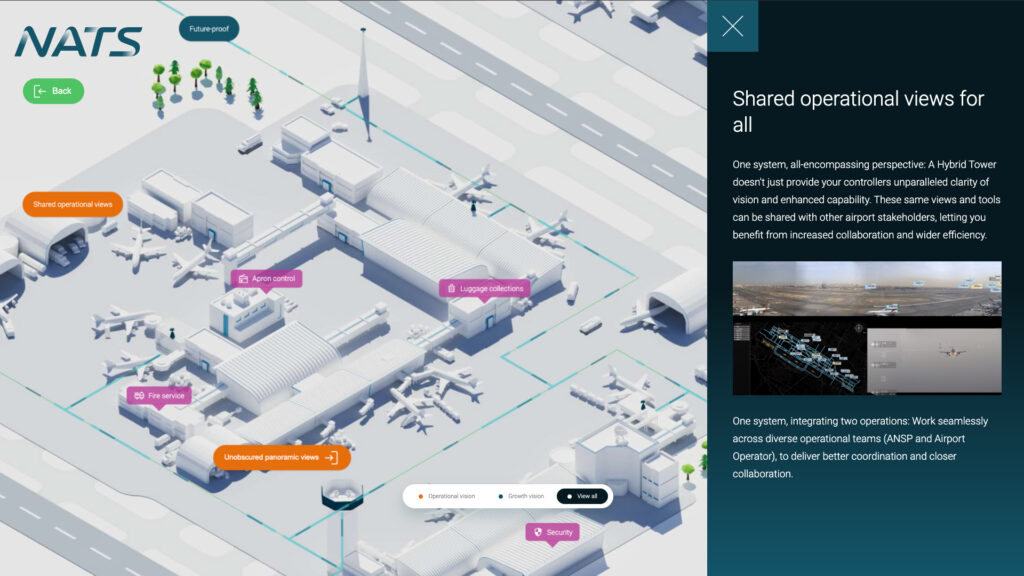 Strategically positioned cameras give greater view of invisible areas and share information across different departments.
This product proved to be a huge success at the show and since then it has been made available on NATS' website for all to experience.
This project was a joy and it shows that serving content doesn't always have to done through a standard web interface. 
If you'd like to work with us here at The Team, we'd love to hear from you.