Workplace Wednesday: Lego – Instructions to the perfect working environment?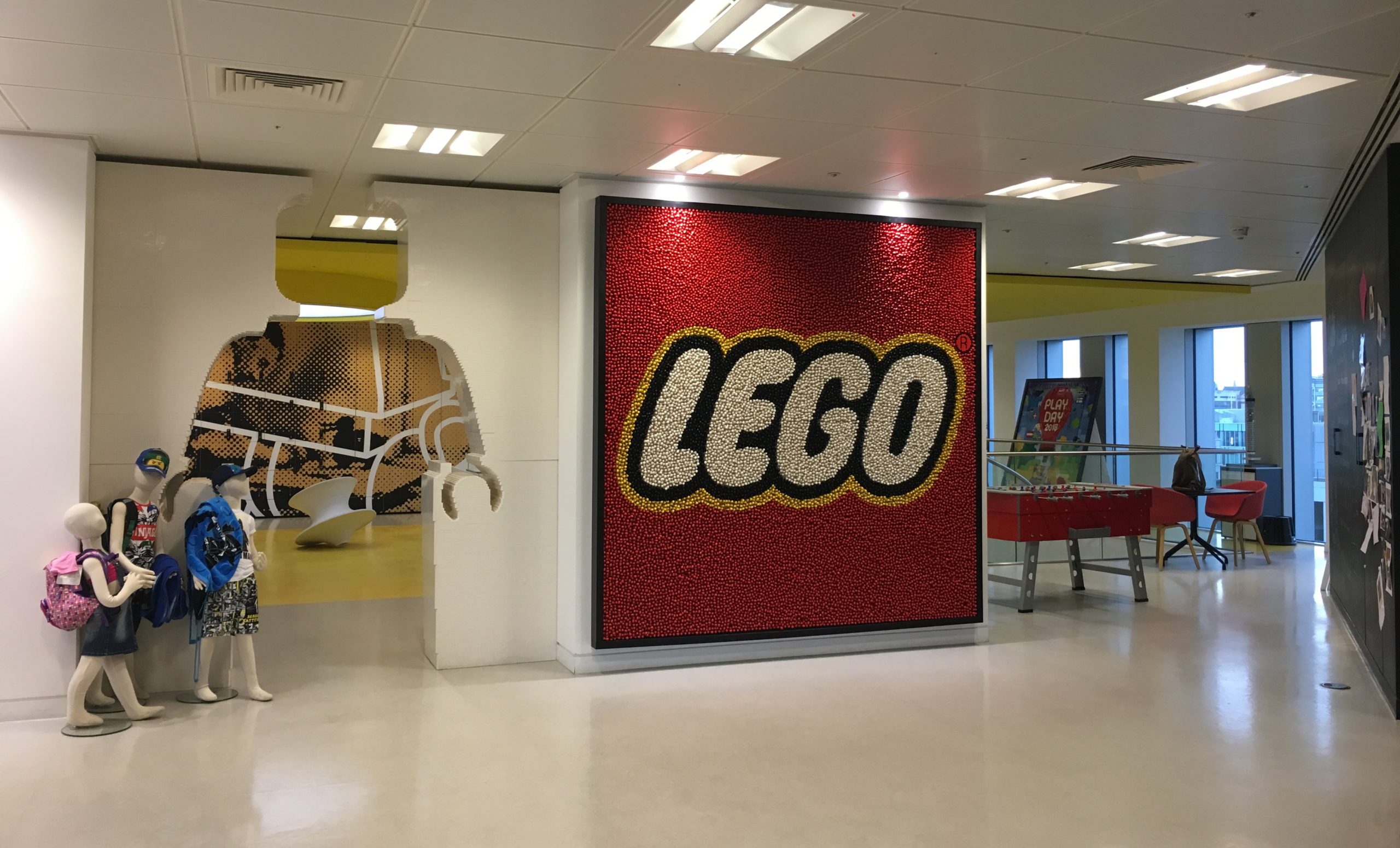 We visited Lego's offices in London during Workplace Week. We explored their workplace design and discovered how their workspaces have been well thought out to accommodate various working activities and how the design brings the world of the Lego brand to life.
We were fortunate to go on a rare tour of the Lego Group's London hub as part of Workplace Week. As a self-confessed big kid, and rather enthusiastic fan of Lego, I was naturally excited to see behind the closed doors of one of my hero brands. But I was equally curious to see how a brand known for its strong values of imagination, creativity, fun, learning, caring and quality, could potentially bring these to life within its own workspaces for their employees.
From the outside, their office block is camouflaged within another other office block in London. No branding, no clues, not even a single brick to spot. Probably sensible, in order to prevent an influx of uninvited Lego fans knocking on the door every day. However, as soon as you walk through into their ground floor reception area, you are warmly greeted into a world of play, imagination and creativity.
Many modern offices have it – the motivational messaging painted in large lettering on the walls. But not many actually use their own product to create it! Lego have devised a lenticular wall installation, made out of tiny 1×1 Lego bricks. When viewed in one direction, it reveals the original motto of the company's founder Ole Kirk Christiansen, 'Det Bedste Er Ikke For Godt' (Only the best is good enough).
In the reverse direction, the company's mission statement displays: 'inspire and develop the builders of tomorrow.' The thought and effort that has gone into this installation is certainly a fitting tribute to both messages. Vinyl lettering or a painted message just wouldn't fit with 'only the best is good enough'.

The actual spaces have been well thought out to not only accommodate various working activities, but the design helps to bring the world of the Lego brand to life in different spaces. Staircases, pillars and walls all look as though they have been made out life-size Lego blocks. With soft furniture fixtures actually made from real pieces.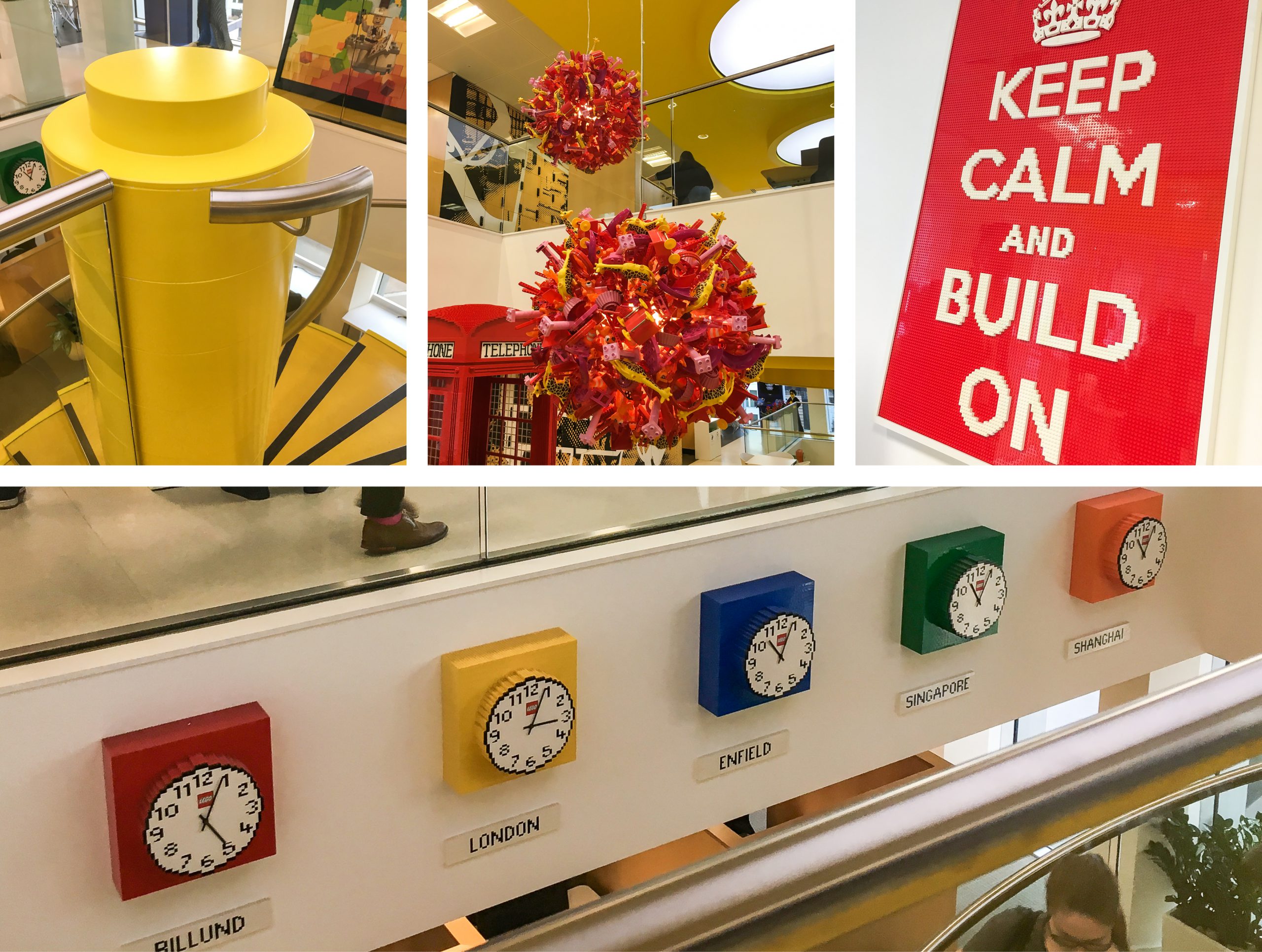 Imagination, fun and creativity is encouraged everywhere. A message wall in reception welcomes visitors and staff, who can dive into the bucket of bricks next to it, to leave behind their own messages and image creations – risky but maybe there's a high level of trust in the Lego culture?
Bowls of bricks feature on most tables. Employees are activity encouraged to play with Lego during meetings.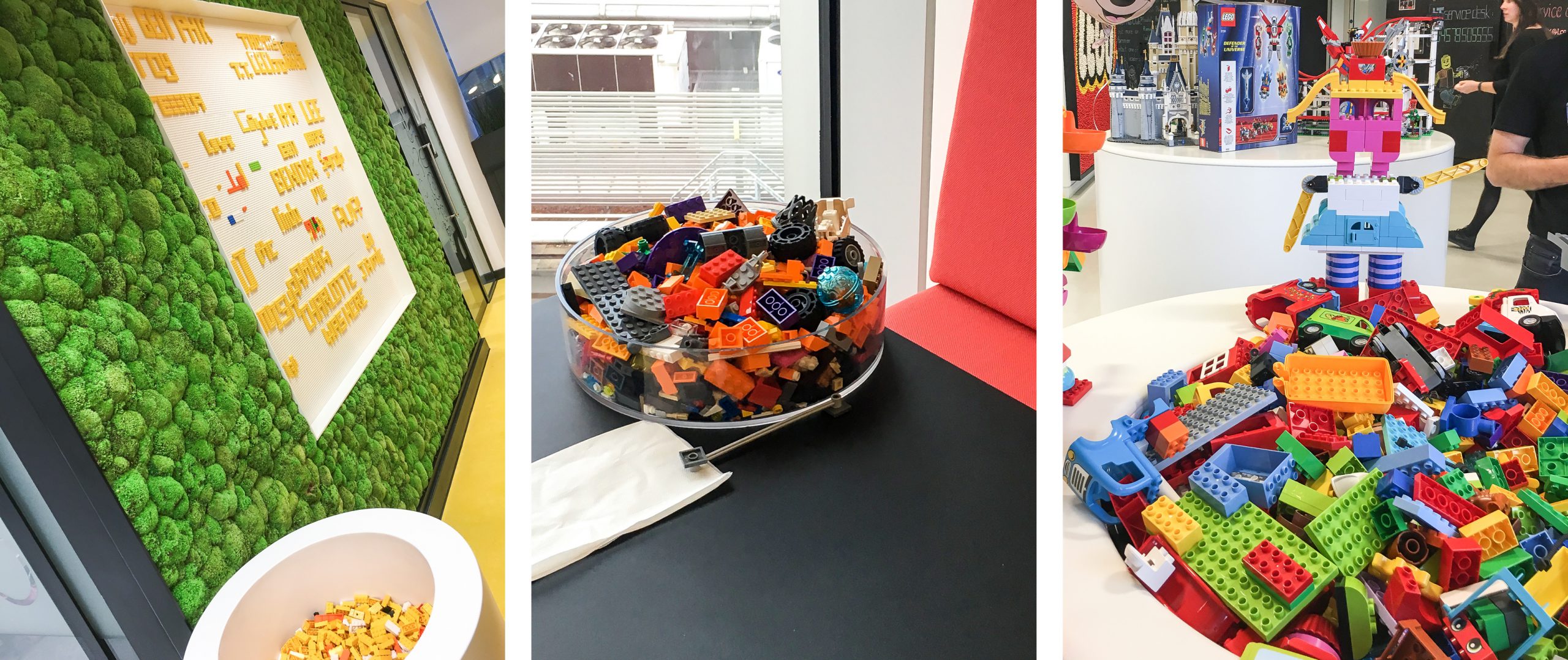 Lego's London office is designed to increase collaboration between employees from all communities. The workplace has various flexible work zones for different types of tasks. There are no fixed desks and no separate offices for managers. Once you have found a suitable workstation for the day and find that you will be away from that desk for more than 1.5 hours, you must clear your belongings and free up that space for others. Failure to do so will result in a playful message in the form of a plaque of a Lego campervan in a red 'do not' circle. In other words, it's a friendly way of saying no camping in this space.
The Lego Group's promise to its people, 'succeed together', lives in the office culture and workspace. One of the most obvious being the large blackboard walls – a dedicated space for anyone to leave a note about a new social club, a lunch, a learning event or even celebrate some recent fan mail.
This relaxed approach to what is essentially just a noticeboard, really encourages anyone in the organisation to join in and contribute a message, picture or idea to these boards. It's a real basic form of communication but it really felt like this was the hub of the office culture.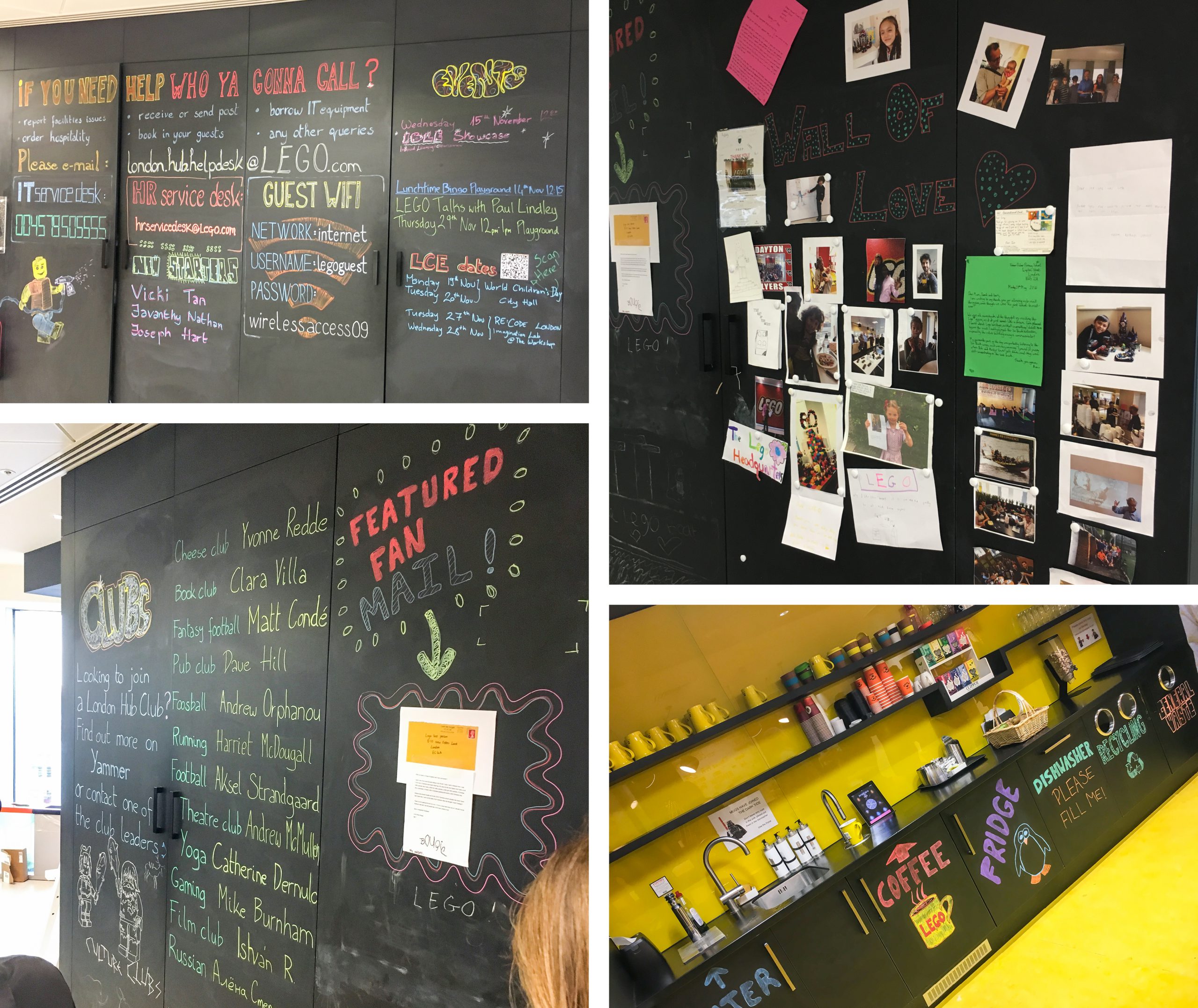 At The Team, we specialise in workplace brand experiences. Whether you are redesigning your current workspace or moving into a new office, we look at how you can engage employees and encourage new ways of working by making the brand work in your space: through communications, actions, leadership and environmental design.