Workplace Wednesday: A beautifully balanced bank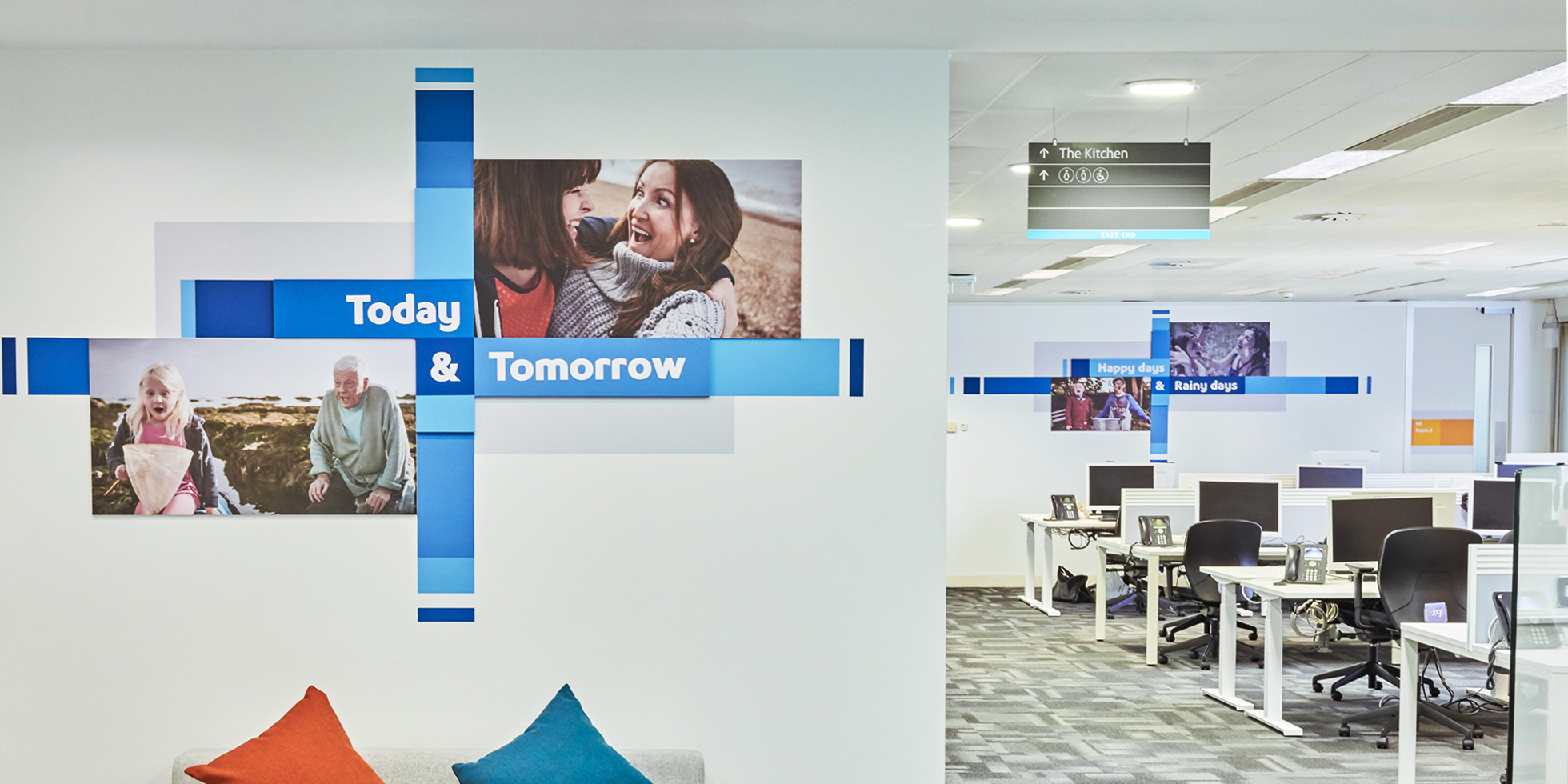 When National Savings and Investments (NS&I) asked The Team to help with their office rebrand, it was a once in a decade opportunity to truly bring to life their ambitions and brand ethos through workplace design.
A beautifully balanced bank
NS&I's head office in Pimlico had served them well over the years but was starting to look a little tired. And the space was configured to traditional desk-based working practices. The time was right to look at new ways of working and organising the space to match the way their employees' roles and activities had started to evolve.
So, working with their partner, Atos, NS&I began to reshape the space to allow for more flexible working practices, where collaboration would be actively encouraged. But also making sure quiet spaces were available for those more concentrated individual tasks. Something for every type of project and every type of employee.
These contrasting ways of working reflected the dual role of NS&I. A government organisation with a strong heritage and responsibilities to the financial welfare of the nation. But also a dynamic, progressive retail bank that has always looked for innovative ways to deliver new products and services to its customers. A safe haven for long-term savers, but also the home of the Premium Bonds prize draw where two millionaires are made every month.
So we saw it as our responsibility to balance the needs of a grown-up financial services organisation with those of a forward-thinking innovator. And all within a sensible budget that returned real value to NS&I and its people.
Constantly moving forwards
NS&I had recently defined its direction for the next few years with a refreshed purpose:
"We want to inspire a stronger savings culture. We believe everyone should have the opportunity to save confidently."
And their strategy to take them forward to 2023 is based around the pillars of 'Inspire and Invest'. This gave us a great starting point on which to build a design principle for the creative – the theme of 'Constantly moving forwards'.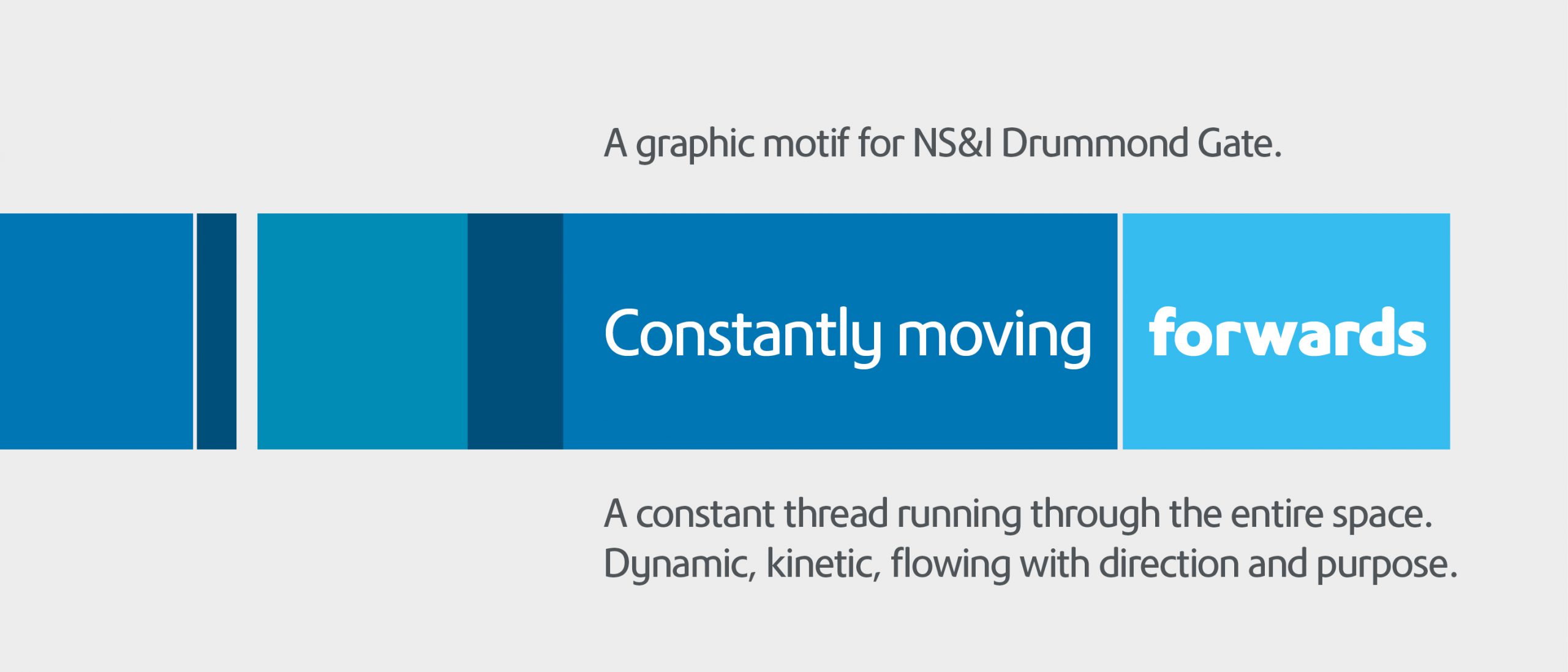 And we would bring this to life through three lenses – who we were, who we are, and our customers.
Who we were is an opportunity to tell the NS&I story. But they didn't want to pickle the past and present it in a dry and dusty way. We saw an opportunity to tell stories about their pioneering projects and pioneering people from over 160 years of innovations.
Who we are is the way they remind employees, partners, stakeholders and visitors of NS&I's purpose, mission and values.
Our customers was an opportunity to tell stories about how NS&I meets the needs of their customers' lives, showcasing real-life motivations for saving from across a broad spectrum of UK citizens.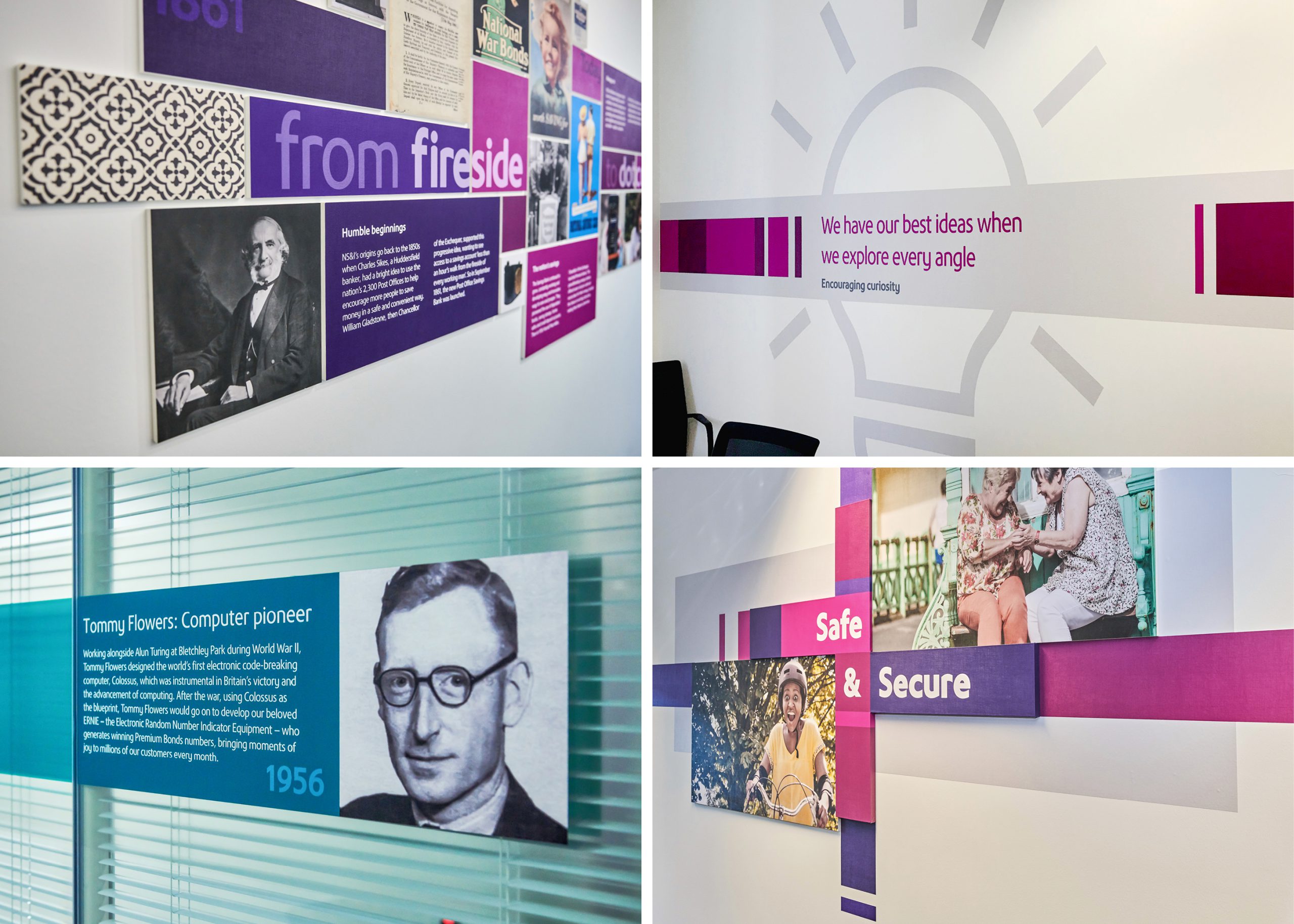 Getting creative with colour
The new space was an opportunity to 'banish the beige' and add in the colour and freshness of the brand look and feel. Fresh white surfaces and neutral dark greys were punctuated with splashes of bold colour from their brand palette for furniture, walls and graphics.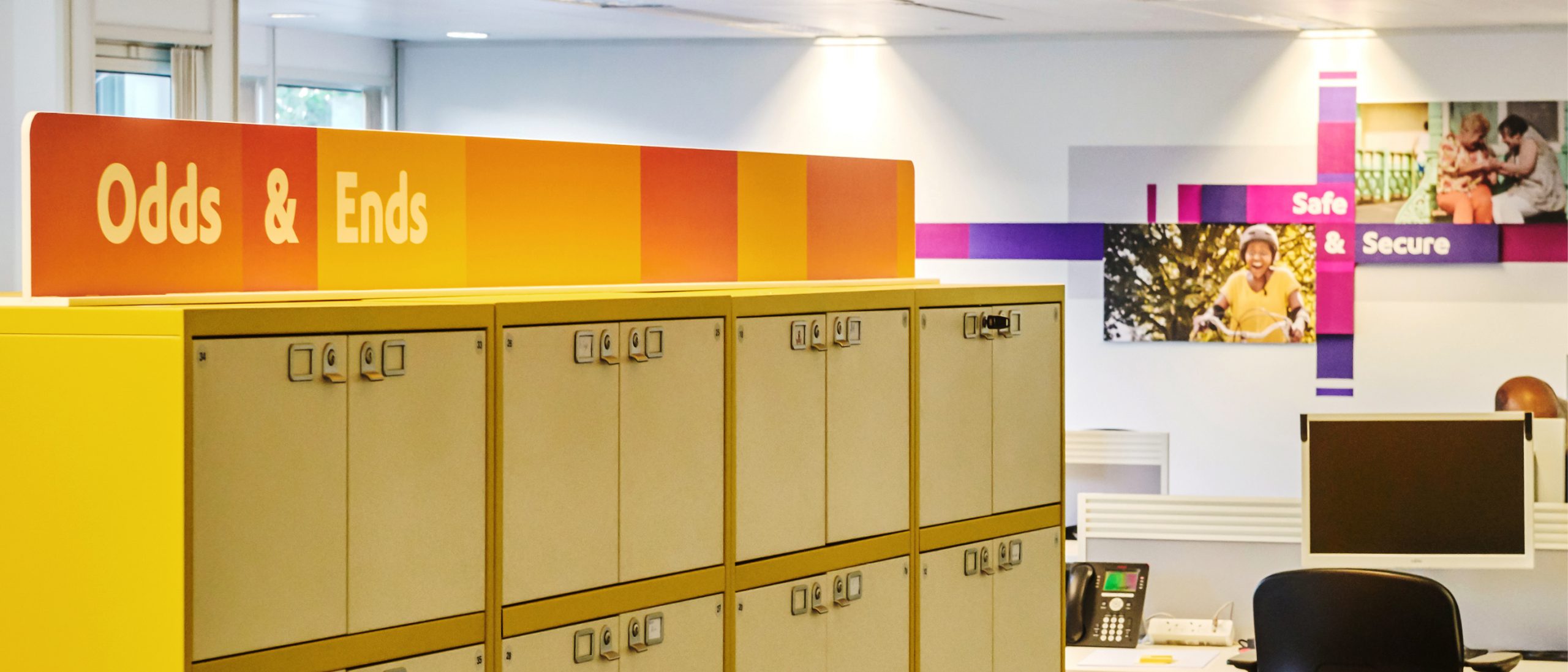 For graphics, the brief was simple – to subtly and implicitly reflect the different functions of the spaces without being heavy-handed. And to use a range of eclectic messages and motifs to zone the spaces without resorting to a large amount of heavy-handed signage.
Our challenge was to find something to tie everything together. The answer was in the design principle of 'Constantly moving forwards'. We developed a dynamic kinetic ribbon pattern that suggested movement by combining tones from their colourful brand colour palette with space gaps. By threading this ribbon across the space we were suggesting a constantly changing variety in pace and rhythm.
'Who we were'
NS&I have always been proud of their heritage, but wanted to make sure we didn't create a museum. So we looked into their past for stories that reflected that spirit of innovation. We named meeting rooms after a selection of pioneering people and projects ranging from ERNIE (one of the first applications of Bletchley Park computing technology for the machine that picks winning numbers for Premium Bonds); to Tommy Flowers (who built ERNIE); and Constance Smith (a pioneer of equality in the workplace who rose to become Superintendent of the Bank). Each was accompanied by an image and story ready to be discovered by those who were curious about the names.
For their boardroom and CEO meeting room, we installed a montage of images and messages to tell the stories of the progressive 'National savings movement' – charting the rise of savings schemes for all. And 'from fireside to dotcom' showcases the innovative products and services they have developed over the years.

'Who we are'
The challenge here was not to throw keywords around without explanation. We wanted to make sure the core purpose, mission and values were simply put. So we arranged an installation around the CEO's space to display all three together, using a mixture of expressive typography and flag panels. We also installed graphic displays in HR meeting rooms to promote themes of their Employee Value Proposition.
'Our customers'
Four large-format graphic installations featuring their customers' motivations for saving were installed in flexible working areas. We used figures of speech such as 'Today & Tomorrow' and 'Hopes & Dreams' as creative expressions of the real-life needs of their customers. They were accompanied by suitable images from their brand library that can be updated from time to time thanks to a modular design.
New ways of working
Perhaps one of the biggest challenges was to encourage employees to use the new spaces to work in different ways based on a variety of different tasks. So we decided to name these new areas to suggest how they were going to be used: 'The Hub' and 'The Lab' for collaboration; 'The Square' and 'The Kitchen' for meeting and socialising; 'The Zone' and 'The Study' for more contemplative tasks. We played up the use of colour, graphics and messages for the more collaborative spaces, and toned things down for the quieter areas. Messaging was subtle rather than prescriptive, suggesting what the areas were for, for example: 'Have that eureka moment', 'Get together', 'Peace and quiet', and 'Think things through'.
The Kitchen was deliberately designed to feel like a space away from the office, where employees could take a break. To create a more informal and sociable setting, we developed the space using textures and colours more associated with a retail space. Outside-of-work activities are promoted with notice boards and chalk boards, and wall space was reserved for an image gallery of past events – all to give The Kitchen a more relaxed and casual feel.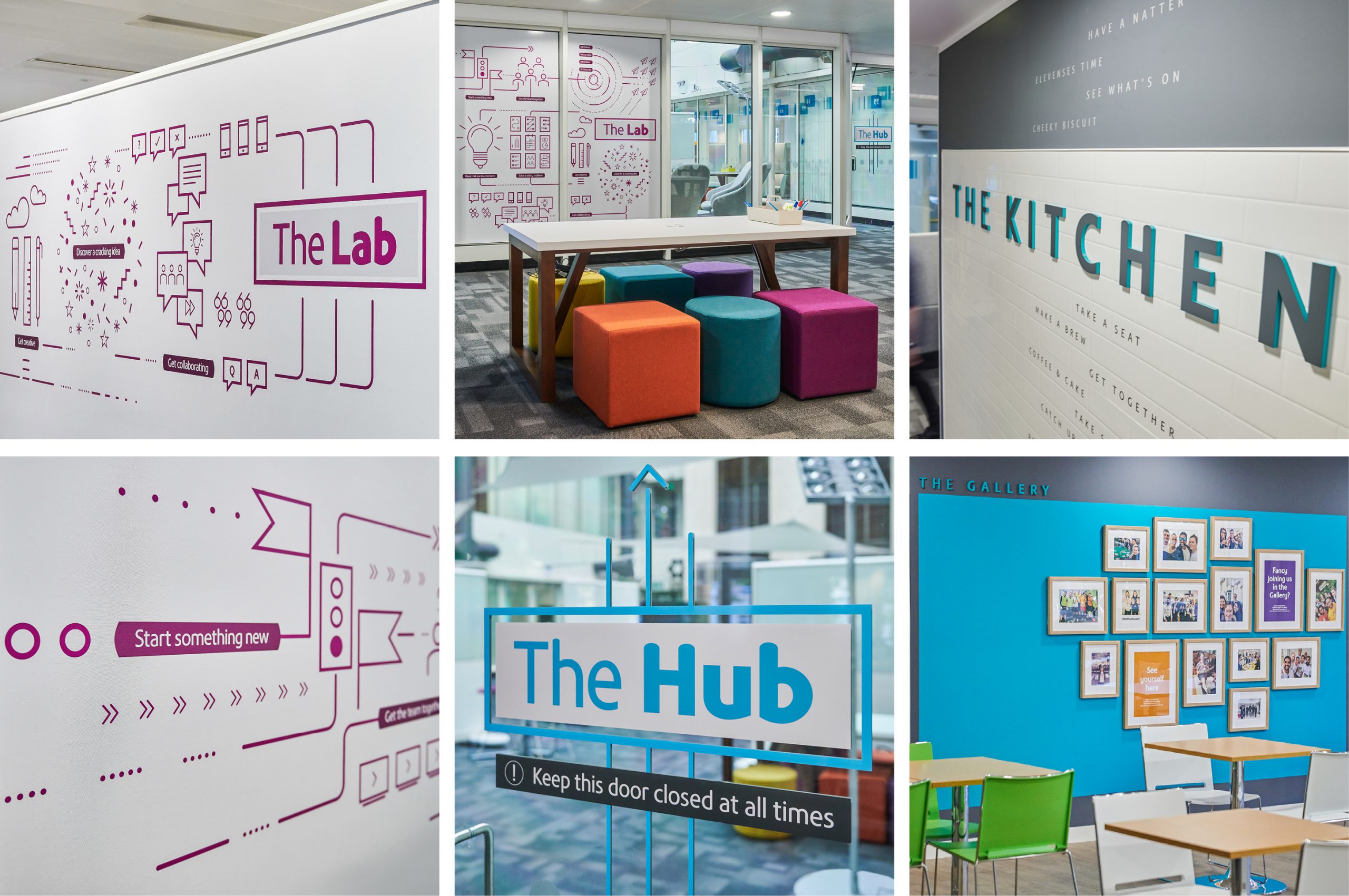 How are they settling in?
Although some of NS&I's people have struggled with the concept of flexible working and not having their own desk, many others have embraced it. In fact some are making a point of working at a different desk every day. And apparently it's catching on, with an increasing number of people moving about the space much more regularly.
People love that fact that there are now many different places to meet and work. Popular areas include The Zone for quiet work and The Lab for working group sessions. One fascinating trend has seen the odd chess game pop up in the most unsuspected corners at lunchtimes.
The graphics and imagery have also resounded well with NS&I employees:
"So light, relaxing, airy – and colours and graphics. Fab!"
"We have a Tommy Flowers room! My hero."
"You have exceeded my expectations. I love it! Thanks so much."
"I think it will be genuinely transformational for us. Well done!"
That last comment seems particularly appropriate as they are a business in transformation.
And although some spaces are not quite working for some people, NS&I are actively listening to feedback and gathering new ideas to see where changes and improvements can be made. Rather fitting for an organisation that is 'Constantly moving forwards'