Workplace Wednesday: Not Pulp fiction – The BFI's new home makeover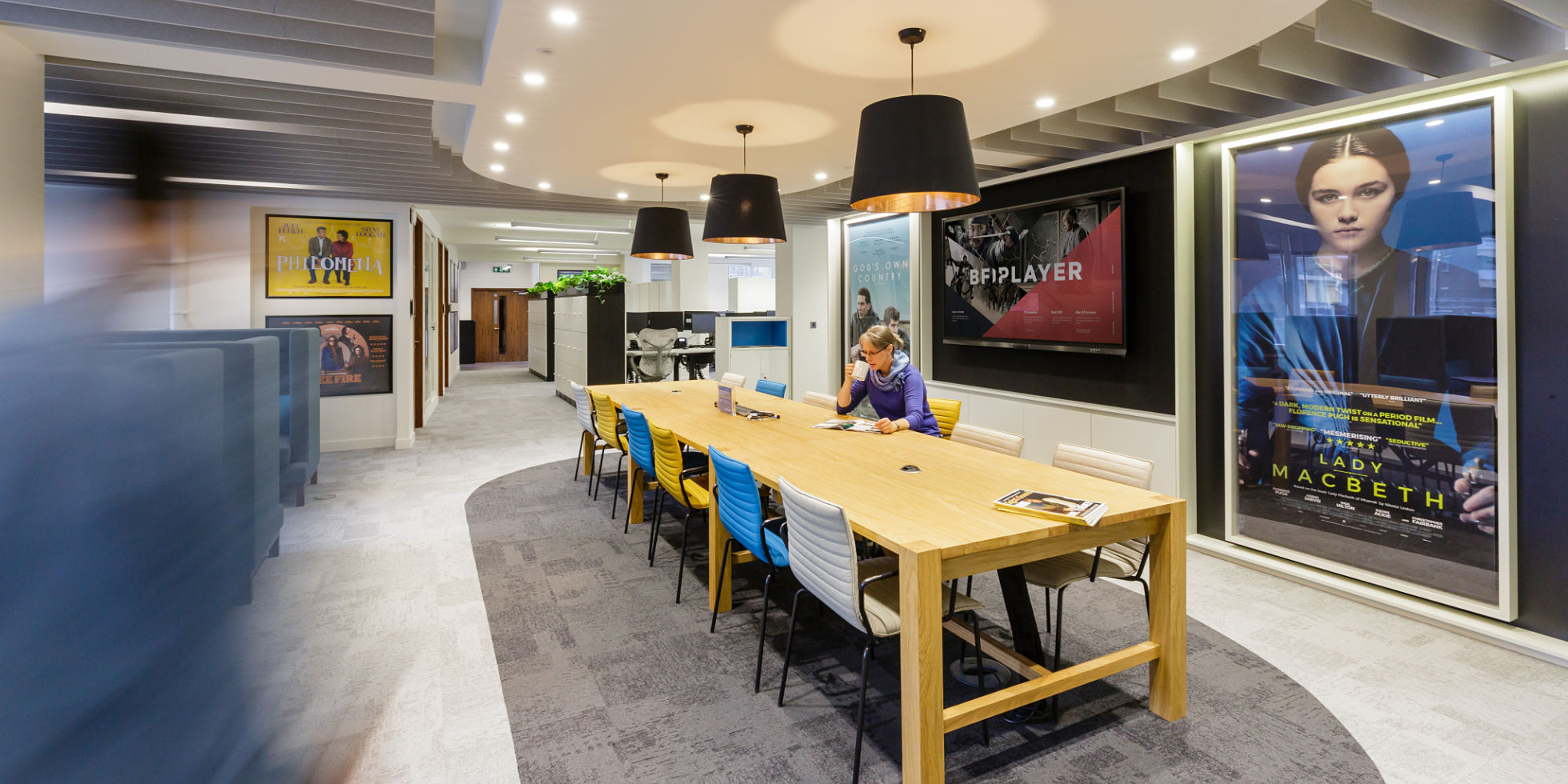 The British Film Institute's refurbished headquarters in Fitzrovia, London was showcased during this year's Workplace Week. As part of our Workplace Wednesday blog series, we took a tour of the iconic institute and looked at how the buildings workplace design needed to work harder by utilising space, maximising performance and productivity, and cutting costs.
It's a venue accustomed to hosting film royalty including the likes of Quentin Tarantino, Robert de Niro and Keira Knightley, but these days everyone gets the star treatment at the British Film Institute's refurbished headquarters in Fitzrovia, London.
The BFI owns 1 Stephen Street as the result of a bequest, but due to funding cuts it needed to make the building work harder for the Institute, so the decision was made to let out two of the five floors to outside businesses, and consolidate employees in the remaining three floors.
At the same time the Institute also overcame massive internal scepticism to overhaul its gloomy basement which housed acres of old film, alongside iconic screening rooms which have been graced by some of the world's greatest film directors to watch early cuts of their films.
The entire workplace overhaul is in some ways, though, a familiar tale that brought together necessary IT transformation with a desire to break down silos within the BFI and move to agile, flexible working.
The project was managed by the BFI team in association with Advanced Workplace Associates and Raw Brothers and the stated mission was to utilise the space, maximise performance and productivity, and cut costs.
A set of interviews, focus groups and online surveys took place to understand working practices and what was getting in the way of doing a good job among the 11 different departments ranging from education to IT. The conclusion the project team reached was that the Institute could thrive on three floors rather than five, and that the basement could be liberated from the doldrums.
After the initial stage, employees were able to see mock-ups of the new space and suppliers consulted with employees to make sure the workspace would feel right for them. The work AWA undertook included benefits workshops, and post-change focus groups.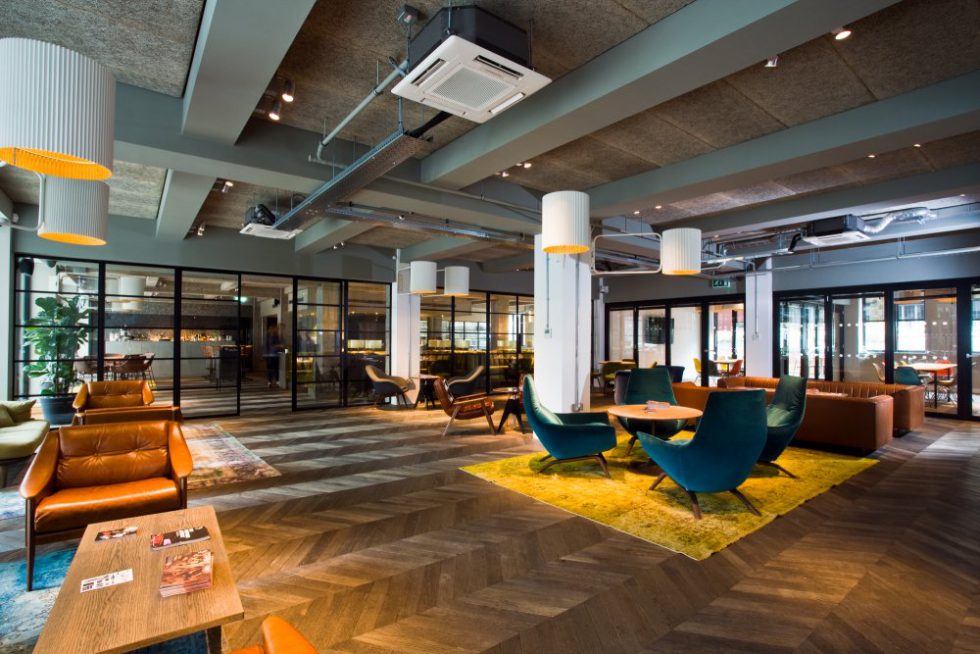 Copyright: Image courtesy of BFI 
The new space has managed to win over even the fiercest internal critics. The three upper floors have been reimagined with "home" at their heart. There are large co-working tables with soft lighting and inset libraries of books and large video screens run via Apple TV as well as individual and group noise-lessening booths. Each team got to choose their desk colours, but agility and co-working is preserved as anyone can log in from any desk.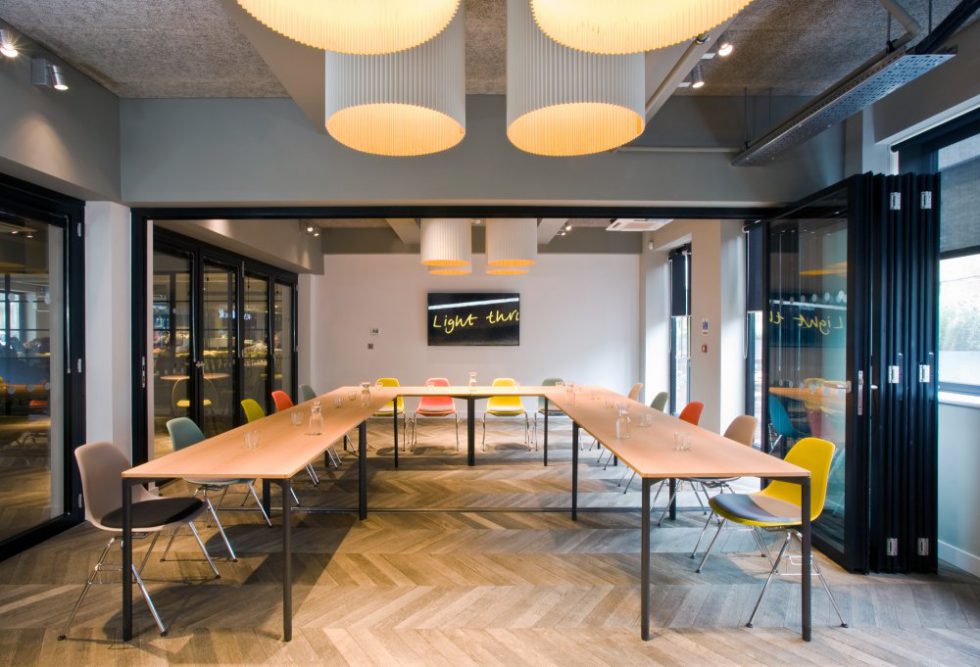 Copyright: Image courtesy of BFI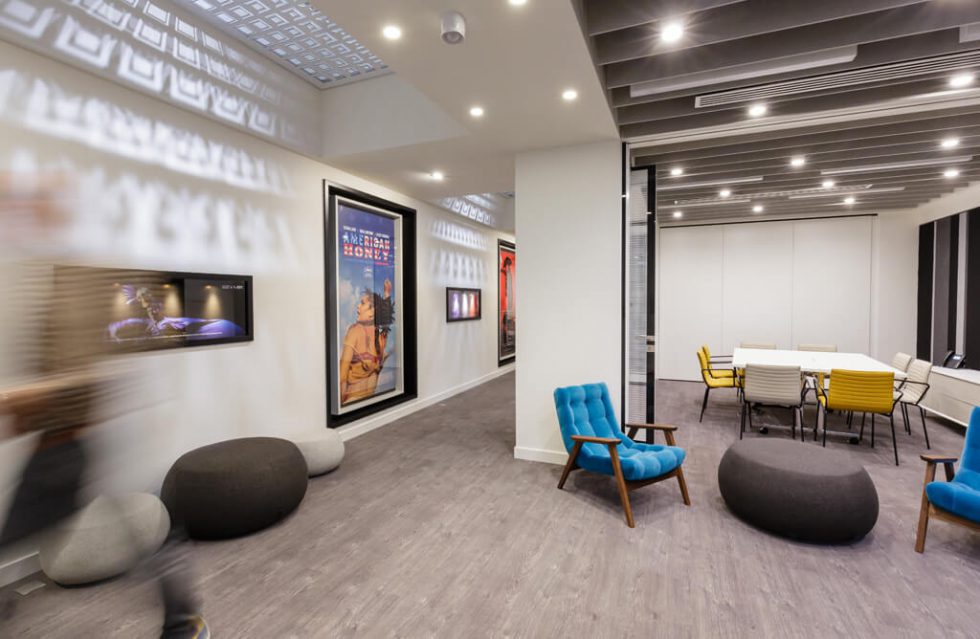 Copyright: Image courtesy of RAW Brothers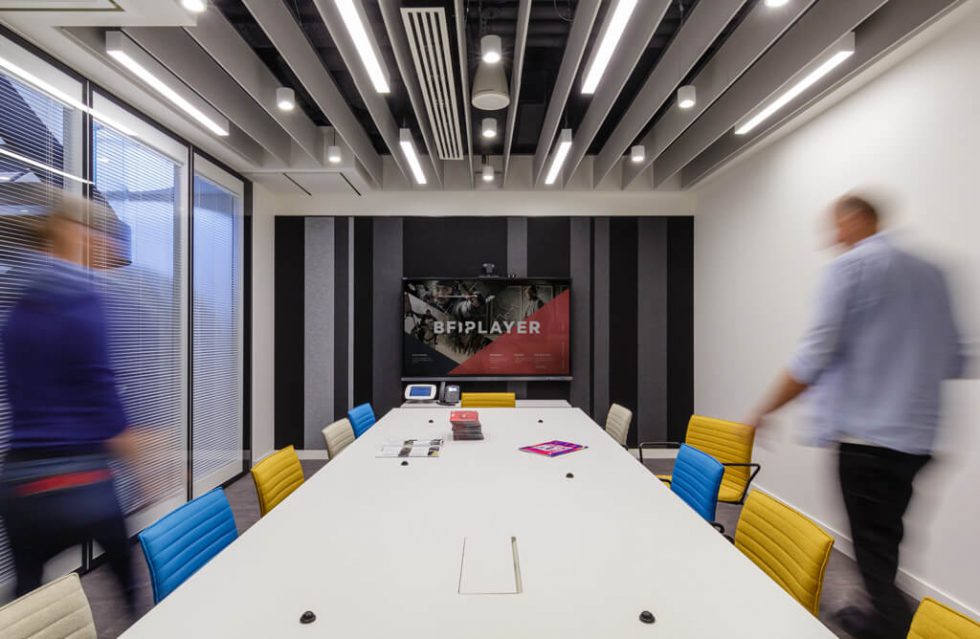 Copyright: Image courtesy of RAW Brothers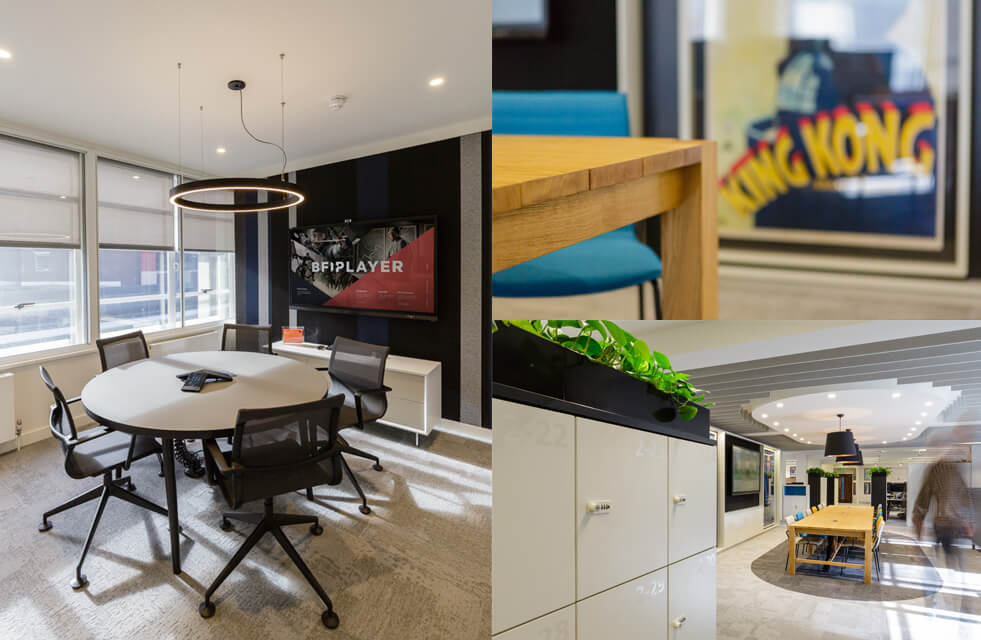 Copyright: Image courtesy of RAW Brothers 
The kitchens, while kept to the side rather than taking centre stage, also have dining areas with dramatic lighting. Banks of lockers line the main walkways.
The BFI's purpose is for film to be central to British cultural life. And you can't escape from the most striking vintage movie posters and even bigger installations of recent BFI-supported releases such as Lady Macbeth and God's Own Country. It's a moody, and vibrant environment fitting for a glamorous industry.
End of the bargain basement
The biggest challenge, however, was to transform the Stygian basement.
Ironically, the basement screening rooms were one of the places where Martin Scorsese and Woody Allen have trod as they put the final tweaks to some of their greatest films. But rather than Hollywood royalty, down in the basement, the BFI's researchers and projectionists were rubbing shoulders with 30 miles of filing including masses of temperature-controlled film and endless paper archives. Getting these treasures to a new safe home in Manchester was one of the major business risks handled by the BFI project team – a project that took much longer than the workplace project.
In addition, much of the rest of the space has metamorphosed into a vibrant entertaining space with a new open staircase, soft seating, and a selection of original industry awards backlit in glass displays. Meanwhile, "pavement style" lighting gives the impression of real light coming into the space. There weren't even any toilets before, but now, the basement finally has spacious toilets and showers where staff can get changed prior to the BAFTAs and other film industry events.
More low-lighting and comfortable seating set the tone for a trip to the movies at the ground floor reception, and just beyond there's a sleek restaurant and bar which is more than a few notches up from most workplace canteens.
The re-imagining is obviously a source of real pride for employees. While it serves productivity and cost-cutting, it also delivers on creating a fitting experience for film industry experts and when it comes to office space it delivers on workplace design.
At The Team, we specialise in workplace brand experiences. Whether you are redesigning your current workspace or moving into a new office, we look at how you can engage employees and encourage new ways of working by making the brand work in your space: through communications, actions, leadership and environmental design.
Download our free e-book 'A Better Workplace for Employees'.