Heathrow
Celebrating the past by looking ahead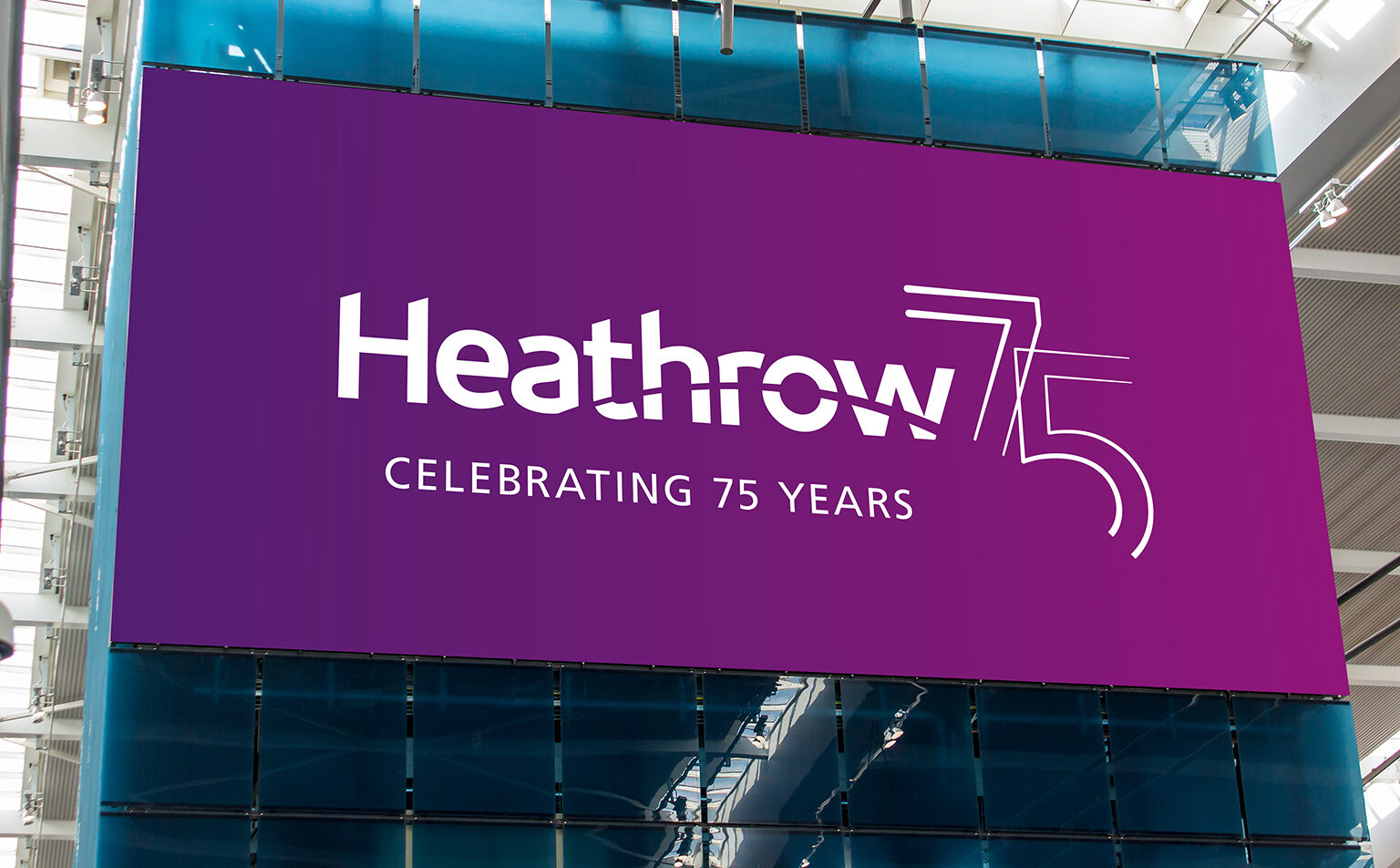 Challenge
We were tasked by Heathrow, one of Europe's busiest aviation hub, to create a campaign that would celebrate their 75th anniversary while looking to the future of the brand.
The campaign needed to create a feel-good moment that spread a message of hope to passengers and colleagues alike amidst a very challenging year for the Heathrow brand.
Approach
Heathrow saw this anniversary as an opportunity to highlight positive passenger journeys within the campaign.
Instead of dwelling on the difficulty of the past year, the focus instead was on looking to new places and experiences, time with people we love and the opportunities to grow and evolve.
Key to this was the sense of building upon the past whilst keeping a firm eye on the future – a time where we will be once again reunited with the rest of the world, via Heathrow. This thread was then carried through the entire campaign.
Strategy
The Team's discussion with Heathrow began by looking at how, after a difficult year, the brand could effectively mark their 75th anniversary, and use it as an opportunity to galvanise spirit and remind passengers and colleagues of what they can look forward to.
Heathrow's previous 70th anniversary campaign had focussed on looking back across their milestones and achievements. The Team determined that progress was at the core of the Heathrow brand, and therefore, the 75th anniversary would provide an opportunity for them to position themselves as a brand who has evolved over the last 75 years and is always looking ahead to the future.
In order to make sense of what "looking forward" would mean within the context of a global pandemic, for both colleagues and customers, The Team began by unpacking everything Heathrow enables people to do: from travel for business, leisure, see family and connect with loved ones.
Heathrow has a clear vision, to give all passengers the best airport experience in the world. To deliver on their ambitious vision, a set of brand pillars provide the necessary guard rails.
Ensuring a pioneering spirit informs all their actions, creating magic in the moment for all passengers
From these discussions, The Team's strategy for a successful anniversary celebration was hinged upon three clear touchpoints:
To use the anniversary as a platform to highlight Heathrow's position as an industry leader
To use the anniversary as an opportunity to remind customers, stakeholders and partners of the value Heathrow brings to the UK economy
To use the anniversary as a platform to remind customers and colleagues of the experiences and opportunities Heathrow facilitates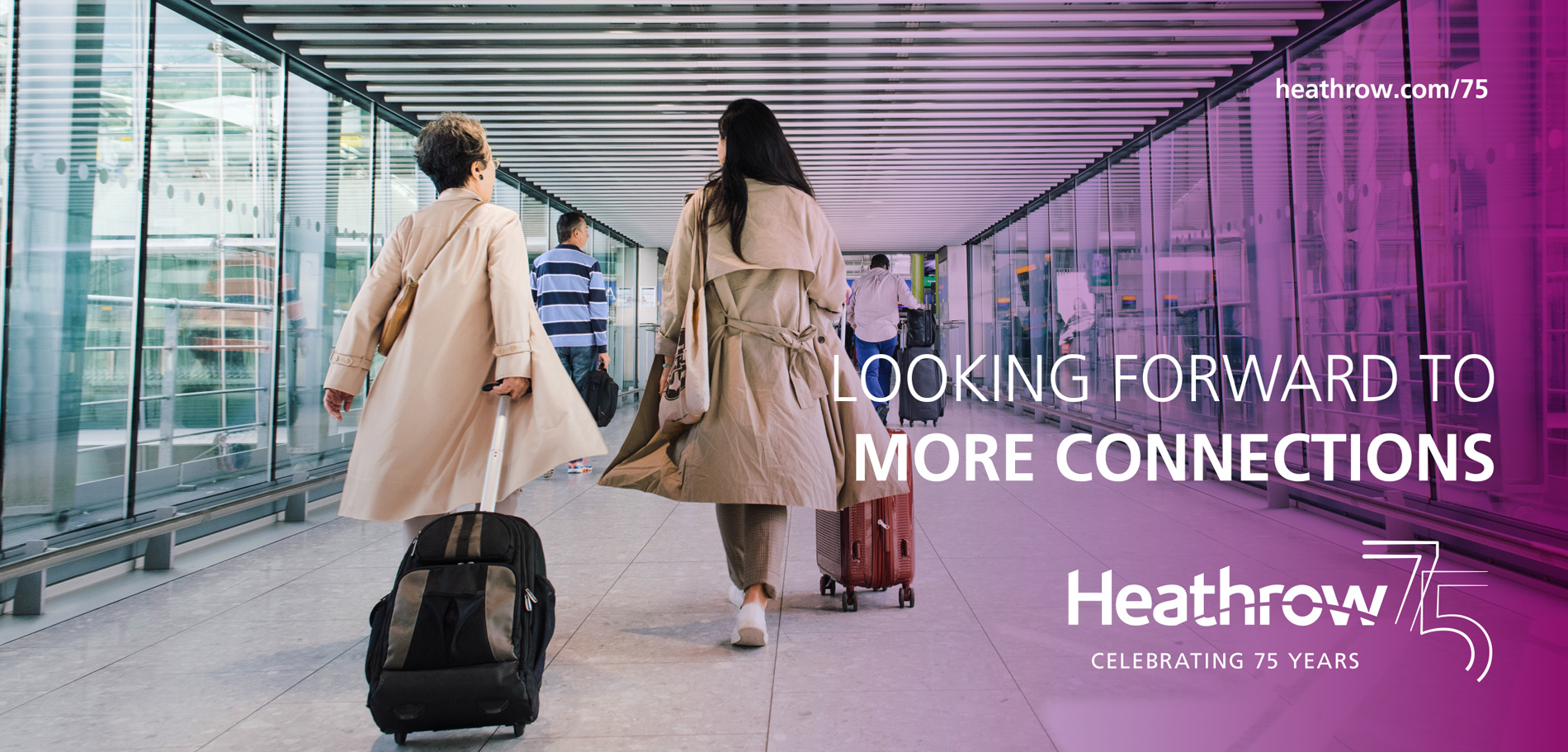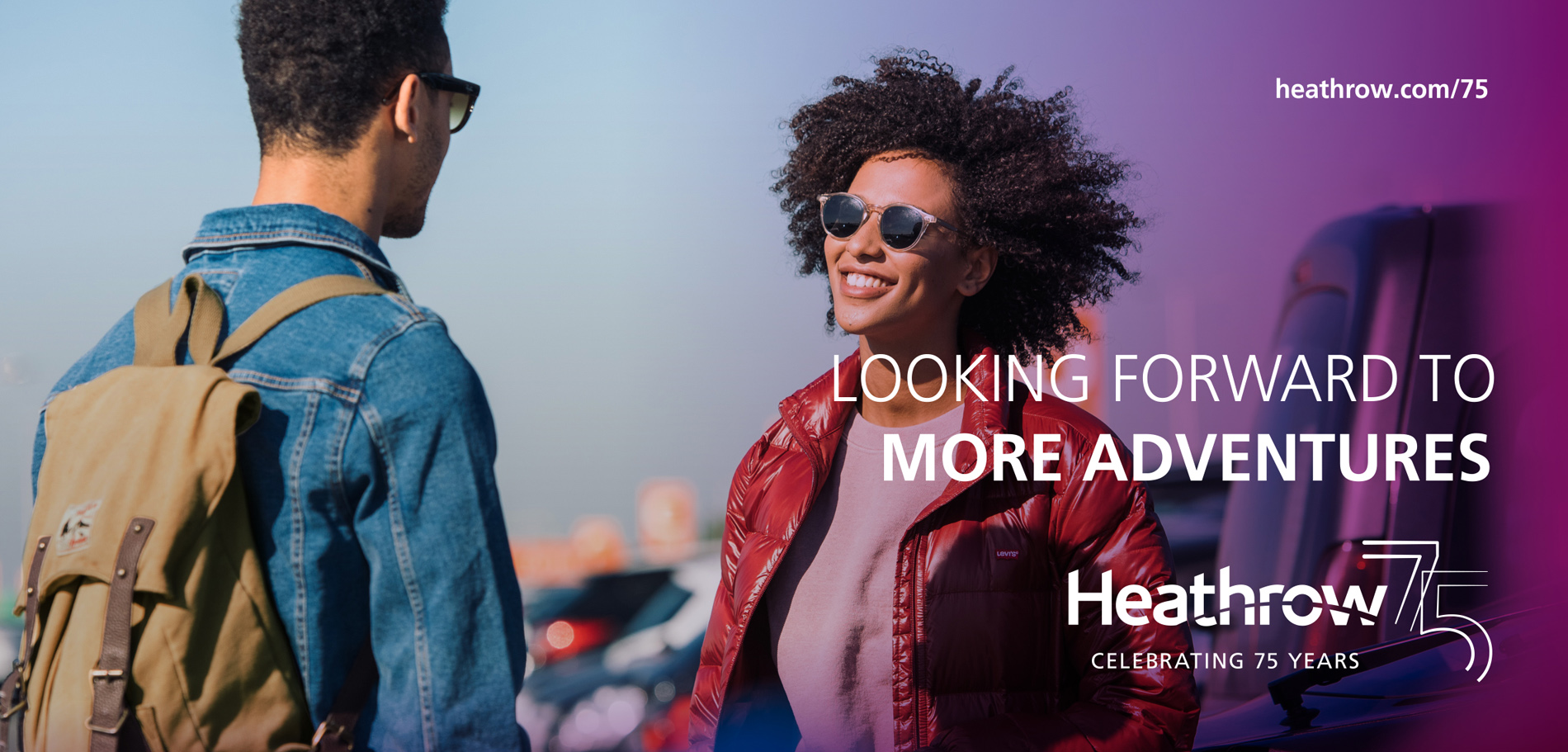 Work
We created four central statements to guide the anniversary campaign: "more connections", "more memories", "more adventures" and "more time together", encapsulating Heathrow's promises to their customers and employees, in their 75th year and beyond. The statements featured on billboards of various sizes and locations throughout the terminals, alongside emotive imagery of families being reunited.
We dialled up the emotion with customers, to create greater cut through and help ensure they had a personal connection to Heathrow as both a brand and place.
We carefully crafted an anniversary marque that prominently featured the 75 years being celebrated using Heathrow's iconic horizon logo and purple brand colour, which would be featured throughout several internal touch points to increase engagement in the anniversary.
The media mix included the terminal billboards of varying size and location, and graphics for social media.
We all know how important anniversaries are, especially if you've ever been unlucky enough to forget one! And no matter […]
We've always valued our relationship with The Team and knew they would be the perfect agency to help us celebrate our 75th anniversary. They truly go the extra mile to understand our brief and are genuinely passionate about Heathrow. It's been incredible to see our campaign in the airport and it's spread a lot of pride as we look forward and focus on recovery.
Helette Gelderblom, Senior Brand & Marketing Manager at Heathrow