Building effective flex for the Gas Safe Register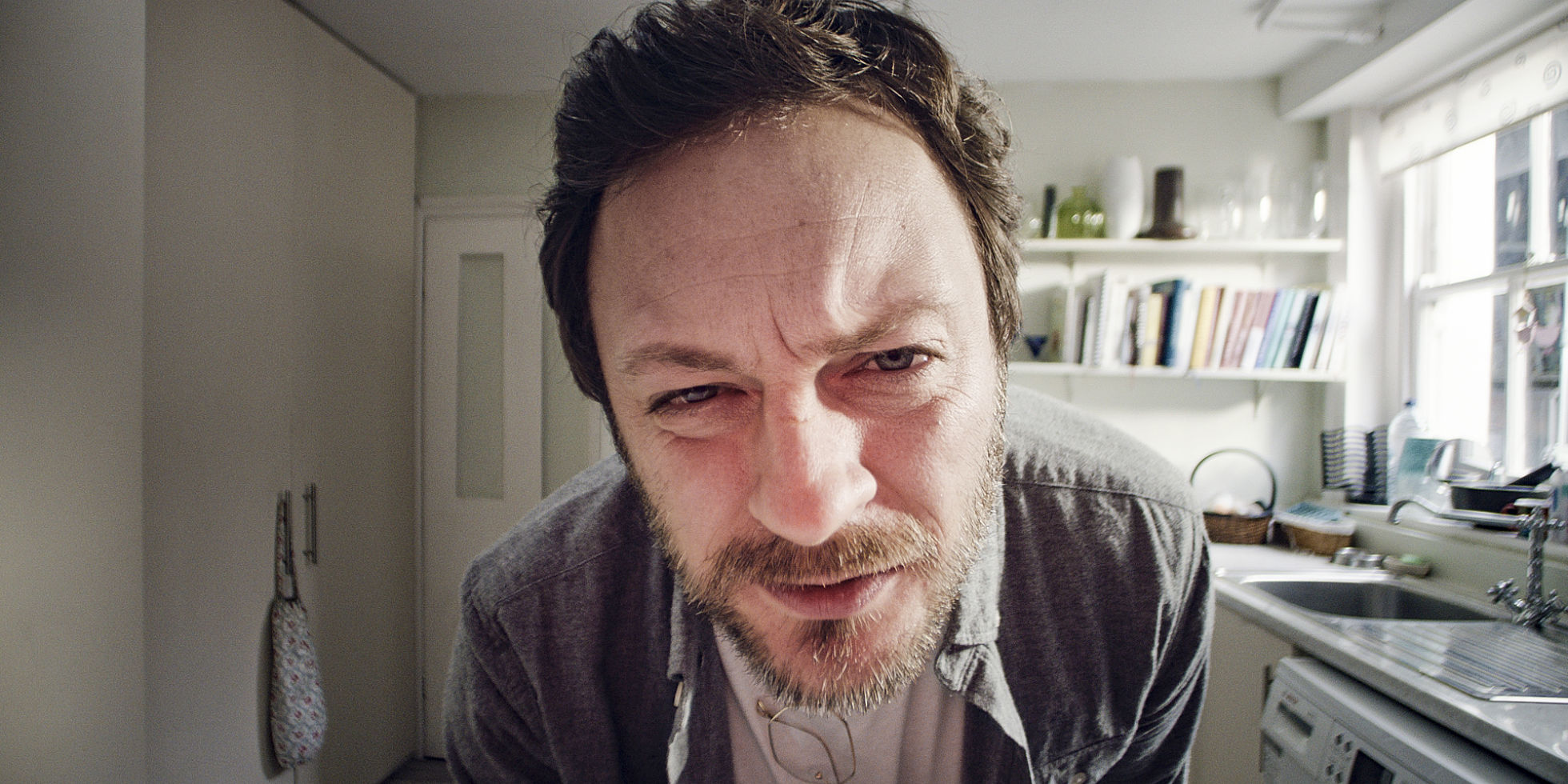 We have further developed our Gas Safe Register 'Don't Cut Corners with Gas' campaign, making the Register more relevant, valuable and memorable by dramatising and humanising the consequences of cutting corners with gas safety. An integrated creative campaign, national TV has been included for the first time. Our latest blog looks at how, in a multi-channel world, we ensured our integrated campaign was effective and impactful across multiple media channels without losing the core campaign 'DNA' and brand message.
Gas Safe Register operates under an agreement with the Health and Safety Executive and was launched on 1 April 2009. For a gas engineering business to legally undertake gas work that is within the scope of the Regulations they must be listed on the Gas Safe Register.
The Team have been working with Gas Safe Register since their inception, creating the brand identity, acting as guardians of that brand and acting as the creative engine behind its consumer campaigns. Most recently we have created a campaign aimed at raising awareness of the Gas Safe Register and the importance of being gas safe.
Multi channel effectiveness
Ensuring our campaign is effective and impactful across multiple media channels was the ultimate test of a strong central idea. Each channel has its obvious attributes and advantages, so building something that can flex enough for each channel, whilst maintaining enough of its core campaign DNA to stay truly integrated is something we always had in mind with our most recent work for Gas Safe Register.
We know that in advertising, frequency and 'opportunities to see' are key. But, for us, that didn't mean a simple 'copy and paste' approach. Television is a storytelling medium, it is an opportunity to build personality and character, which in turn can engender emotive responses. Personifying the brand is something we have never done before with Gas Safe Register, so having a character that our audience can recognise should be a priceless asset for an organisation that values recall in the minds of its audience very highly. Conversely, we also know that 'out of home' is definitively immediate and needs to be 'got' instantaneously. There is no truer test of a campaign's message than speeding past a bus shelter poster from the comfort of your Toyota Prius and leaving with the compelling motivation to act on that message.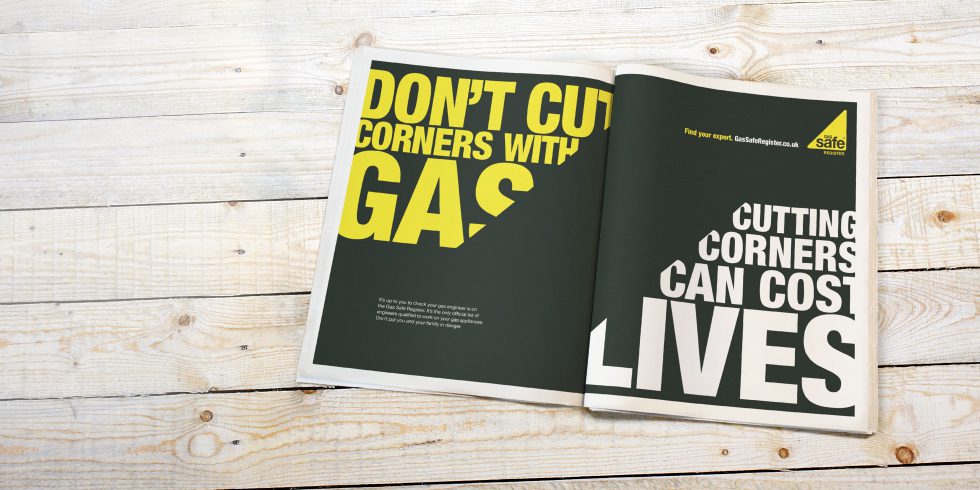 Using TV as a storytelling medium
In January this year we ran a campaign for Gas Safe Register with one simple headline: 'Don't Cut Corners with Gas.' We activated the campaign across radio, digital and out-of-home channels. The campaign ran mainly in the Midlands and was highly successful achieving 637,044 consumer visits to the Gas Safe Register website during the campaign period (an additional 118,859 visits year-on-year), reached over 1.6 million people through radio advertising in the Midlands, and resulted in 395,192 views of our Don't Cut Corners YouTube advert. After, profiling showed us that we needed to target 'home owning responsible families' and 'empty nesters'. These two groups would provide us with the biggest opportunity both in terms of size, and potential for a genuine response. From our post-campaign qualitative research, we could see that we were still left with one question unanswered: What happens if I do cut corners?
This time around, the answer came in both the TV commercial as well as the press and print we created. 'Cutting corners with gas can cost lives.' And that's not all… cutting corners with gas can cost you time, money and a great deal of hassle. All this could be unpacked to great effect on the Gas Safe Register website, where the overriding priority was to get people to check and find their gas engineer.
So, for TV we created the character of Jack Corner. Most importantly, for us, he is a character you can trust. Although Jack loves all things corners, we could never make him feel 'whacky'. Corners are just his 'thing', everybody has a 'thing', and corners are Jack's 'thing'. If you are going to act on a recommendation, it has to be from a reliable source. Jack could not be erratic, incomprehensible or fantastical. It was also important for us that Jack had responsibilities – he has a house, and he of course has his son, Jack Corner Jnr.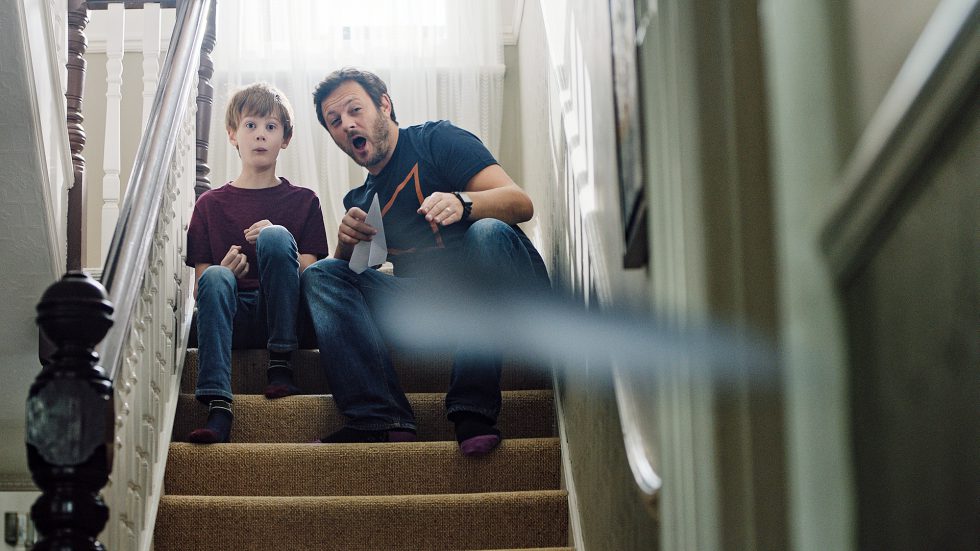 Finding the balance between campaign customisation and integration
We knew that mixed messages would kill our campaign effectiveness, but we also knew that our campaign creative should flex enough to maximise its impact in each channel. So, what was our golden thread? What was the DNA that held the campaign together? Well, not 'cutting corners with gas' is part of the answer, and so is 'cutting corners costs lives'. But the response we wanted to engender was that you can find and check your gas engineer on the Gas Safe Register, so that was our clear, consistent call to action. For Jack, 'If he can't do something right, he knows where to find an expert who can'. Therefore 'Find your expert' underpins the entire campaign as our call to action.
Our campaign was based on one simple human truth, that when you make something personally relevant, you are much more likely to elicit a response. We had a campaign with channel-specific elements that are personally relevant and therefore effective. Dramatising and humanising the consequences of cutting corners in a way that best made use of the specific channels that worked for our audience, losing none of the impact of our original 'Don't cut corners' creative.
In a multi-channel world, finding the balance between campaign customisation and integration is as important as the central idea itself. If you can't flex your campaign creative effectively and impactfully across appropriate channels, then perhaps you may need a rethink.