The importance of words in a rebrand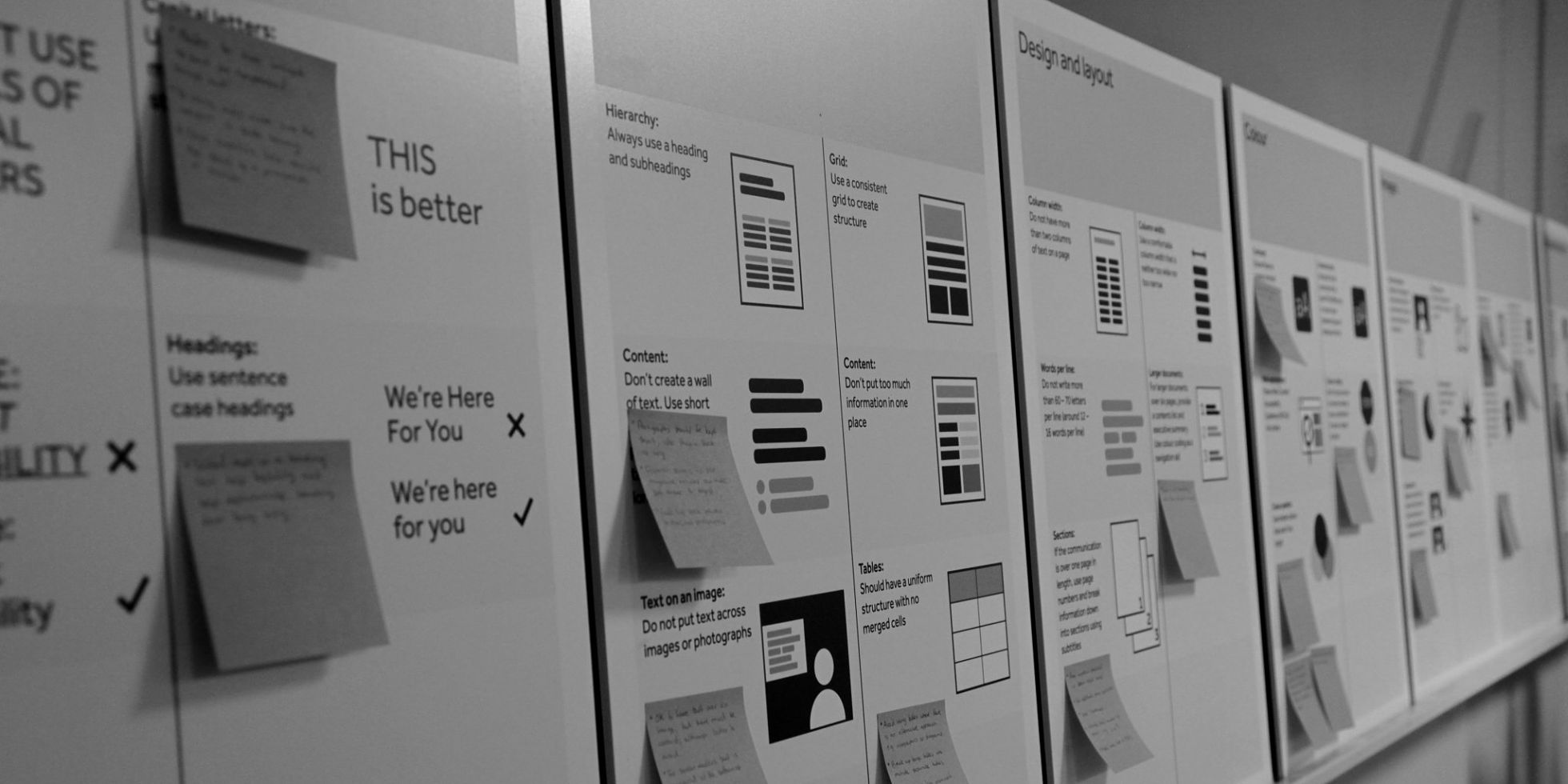 There is often a lot of focus on design following a rebrand. But a brand's choice of words is just as important. Following the rebrand of Scope, we look how we defined their brand positioning and tone of voice to express their unique brand personality and inform their culture and communications.
There is often a lot of focus on design following a rebrand. But a brand's choice of words is just as important. In an increasingly busy world, where audiences are constantly bombarded with information, it is vital that every element of the brand is working as hard as possible to attract and sustain attention.
'Tone of voice' is the term used for the style of language a brand adopts to express its unique personality. A brand's personality can, of course, be expressed visually in colours, fonts and graphics. It can be expressed in sonic mnemonics, like the Intel tune. But it can also be expressed in words. A caring support-based charity like Macmillan will communicate in a very different style to a campaigning charity such as Amnesty International.
Reviewing the UN's Sustainable Development Goals and Scope's history helped us identify that the charity not only needed a visual identity rebrand, but it needed to rebrand its cause. Whist other causes have clear terminology such as racial discrimination, gender parity, marriage equality and LGBT rights, disability didn't. Whilst some people might prefer not to use the word disability, other people are very proud of it. And so, we have embraced 'disability' together with 'equality' in a new descriptive brand strapline which sums up what the evocative name Scope stands for: Equality for disabled people.
Market analysis showed a distinct difference in the style of language used by the charity and public sectors compared to commercial or media brands such as Channel 4. We identified an opportunity for Scope to move into a more positive campaigning brand positioning: a social movement to achieve equality for all disabled people. This was inspired by Challenger Brand narratives and brands such as Virgin Media, a Scope partner, and whose own brand team provided peer review during Scope's brand development.
And so, the Disability Gamechangers brand personality was born:
"We are disability Gamechangers, driven by the injustice and inequality facing disabled people every day. So, we'll all come together, to overcome life's challenges, and use our collective power to achieve equality for disabled people."
The Challenger Brand that sets out to be a Game Changer isn't setting out to challenge category convention, like the Irreverent Maverick or Enlightened Zagger, but to go even further. They provide products and services that not only change how we think about the existing brand category, but the way we live our lives altogether.
Scope's Disability Gamechangers personality is brought to life with five values (Open, Fair, Connected, Courageous, Pioneering) which inform both Scope's culture and communications.
These five values were translated into tone of voice principles: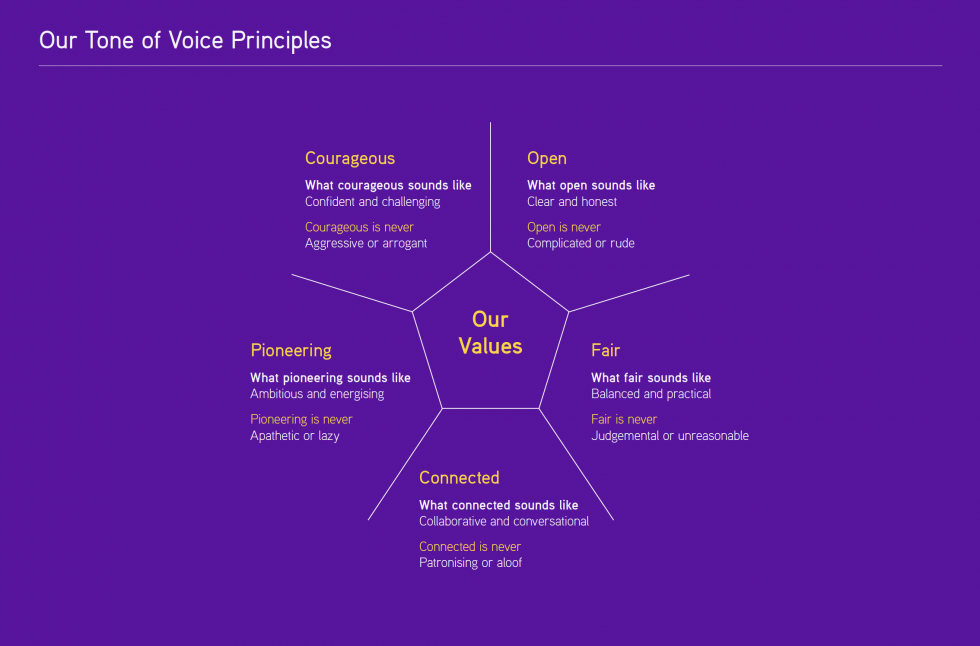 Open
What open sounds like: Clear and honest
Open is never: Complicated or rude
Fair 
What fair sounds like: Balanced and practical
Fair is never: Judgemental or unreasonable
Connected
What connected sounds like: Collaborative and conversational
Connected is never: Patronising or aloof
Courageous
What courageous sounds like: Confident and challenging
Courageous is never: Aggressive or arrogant
Pioneering
What pioneering sounds like: Ambitious and energising
Pioneering is never: Apathetic or lazy
Scope's tone is either focused around one of their values or a combination thereof. Depending on the subject matter or audience, it may dial up certain values. But whatever value or values Scope choose to lead with, brand communications always feel: human and friendly, positive and action-oriented.
We purposefully wanted to move away from traditional charity social discourse which felt soft and paternal, and have deliberately embraced short staccato sentences, with a positive, empowering and active tone, embodied by Scope's new brand manifesto:
There are over 14 million disabled people in the UK.
That's one in five of us.
Life is harder when you're disabled.
Twice as likely to be unemployed.
Getting support is a struggle.
The cost of living is higher.
It's wrong.
So, we're coming together to create a fairer society.
And we won't stop until we have everyday equality.
At home. At school. At work. In our communities.
We'll provide support and advice at times of need. 
To get the best start in life, to work, to be financially secure and to be independent.
Together we'll challenge stigma and end the injustice.
Come and join us to make it happen.
Let's get equality for all disabled people. Today.
Download our inclusive design poster – designing with accessibility in mind